Cristiano Ronaldo
Cristiano Ronaldo bust changed at Madeira airport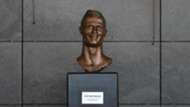 A widely-mocked bust of Cristiano Ronaldo has been replaced by a new, improved model.
The Portugal captain was 'celebrated' by a commemorative statue at Madeira airport, which has been renamed in Ronaldo's honour.
However, fans on Twitter were quick to tear apart the likeness, comparing it with F1 driver David Coulthard, the head from British television show Art Attack and even former Sunderland striker Niall Quinn.
It has now been changed, with the grinning, or gurning, statue now replaced by a more serious-looking effort.
Madeira Island News reports that the change came about after Ronaldo's family requested that it be replaced.
Per their report, Duarte Ferreira, the director of the airport, said: "The (Ronaldo) museum asked us to replace and put this bust in honour of the athlete and we thought we should change, but in any case we have the old one saved."
Madeira Airport has new bust of Cristiano Ronaldo pic.twitter.com/Q1woRYFXv1

— Madeira Islands (@Madeira) June 17, 2018
The man behind the original design was Madeiran artist Emanuel Santos, who previously worked at the airport in which the statue was revealed. 
After the widespread criticism of his work, Santos noted that not even Jesus pleased everyone, and subsequently made another attempt at recreating Ronaldo.
"It is impossible to please the Greeks and Trojans," he said. "Neither did Jesus please everyone.
"This is a matter of taste, so it is not as simple as it seems. What matters is the impact that this work generated. There is always the possibility of making a difference, I was prepared for all this. I used as a base some photos of Cristiano Ronaldo that I found on the internet, nothing specific. I put the photos next to me and started working on the bust."
Santos also stressed that his efforts were appreciated by the man himself, saying: "I was with the brother at Cristiano's museum in Madeira and from the messages he sent, I could tell that he liked what he saw.
"He only asked for some wrinkles to be changed, that give him a certain expression in his face when he's about to laugh.
"He said it made him look older and asked for it to be thinned out a bit to make it smoother and more jovial. But they gave it the go-ahead before they liked what they saw."
The new bust was unveiled after Ronaldo scored a brilliant hat-trick against Spain in Portugal's World Cup opener, earning his side a 3-3 draw in an instant tournament classic.
The real CR7 will also take on Morocco and Iran in the group stages. Should Portugal repeat their Euro 2016 heroics, Madeira may need to commission a few more Ronaldo busts.