Transfers
Costa: I won't let Chelsea decide where I play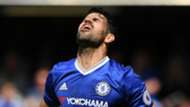 Diego Costa has warned Chelsea that they cannot decide who they potentially sell him to after telling him he is surplus to requirements.
The Spain international is currently in Brazil after being told by Antonio Conte via text that he was not in the Blues manager's plans for the 2017-18 campaign.
Costa has made it clear he wants to join former club Atletico Madrid despite their current transfer ban, but feels Chelsea are asking for too much money.
The 28-year-old has been linked with a host of other clubs including AC Milan, Besiktas and Everton, but he insists he only wants to play for Atletico and does not feel he can have his future dictated to him by a club who do not want him.
"Chelsea have offered me to several clubs, but I was very clear with them," he told ESPN Brasil. "I said that if I'm not part of the manager's plans, I would like to choose my destination. I'm not going to let them decide just to get more money.
"When I came to Chelsea they paid a lot less compared to what's being offered to them. I think they should take into account everything that I've done.
"It's not my fault that I'm not at the club. If it was down to me I'd be playing. It's already been one month. Holidays are good but it gets tiresome.
"I didn't provoke the situation, but now that it's come to this the club has to think in two ways.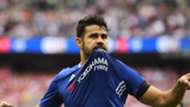 "Of course they need to get something back [in a sporting sense], like I gave them on the pitch, but financial as well. After three years they will receive a fee higher than what they paid."
Reports have suggested that Chelsea are keen for Costa to return to the club and work towards match fitness as the end of the transfer window moves closer and the proposition of him staying at Stamford Bridge becomes more realistic.
But the forward insists he has not heard anything from the Premier League champions and would be wary about returning because of the way he and Conte fell out as well as the belief that he would be forced to train with the reserves.
"I'll be honest, I have my agent and none of that [Chelsea wanting him to return] has reached me," he added. "People at the club called me before [earlier in the summer] to give me extra holidays to not have contact with the manager.
"I was always meant to turn up with the group, but they were already saying that I'm going to have to come back and train with the reserves. I said that this was a lack of respect.
"We won the league and I haven't done anything so serious to deserve being treated in that way.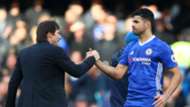 "It won't be the same as before [between him and Conte], and we don't know if the fight for the position will be fair.
"Because of me having exposed the [text] message I understand that he'll be annoyed, so if I go back I have to see if things would be clean, just and correct.
"That's how I like things. If I go back now I don't think it will be a fair situation. It won't be an honest fight for a position [in the team]."