Concacaf Nations League
Concacaf pleased with early Nations League impressions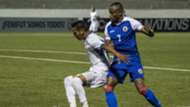 After three rounds of matches in Concacaf Nations League qualification, the confederation's directors are pleased with what they've seen and are keeping the tournament on track for a full launch in September 2019. 
While that is when Concacaf powers like Mexico, Costa Rica and the United States will begin Nations League play, the majority of the teams in the region have been involved in matches since September, working to earn both a spot in the Gold Cup and sort out which of four leagues teams will be put into when the competition begins in full. 
Manolo Zubiria, the Chief Football Officer for Concacaf, said both the enthusiasm around many matches in countries that often played only once every four years and the on-field product have provided reasons for enthusiasm. 
"I think we're only seeing the beginning of the success we're going to have," he told Goal before the third round of matches kicked off last week. "I think it's a nice warm-up to the Gold Cup, a nice celebration giving a chance to teams who have earned the right on the pitch to play in our premier competition and then our momentum will continue on to the kickoff of Nations League just a few months after the kickoff of Gold Cup, so we have a lot of good things to look forward to." 
That includes an exciting finish to qualification in March. Among other storylines, there's Montserrat, a minnow representing an island of fewer than 5,000 people, that has an outside chance at Gold Cup qualification.  
"It was a very nice surprise to see a team like Montserrat kind of look very organized, very fit and look like a well-coached team," Zubiria said. "Of course, you can say that a lot of those players play abroad, but that's the reality also of the region is that there's a lot of talent, a lot of good players, who unfortunately have to go look elsewhere for a more stable and more continuous platform of playing club football. And a lot of them, given their ties to the UK and having passports, etc., have easier access to those leagues. 
"That's great, but at least now they're playing in their motherland, or coming back for international play which wasn't happening in the last four years." 
There have been difficulties as well, Zubiria acknowledged, as were expected when the confederation launched the ambitious plan to get all of its member associations regularly playing competitive matches at the senior men's level. There were even reports that some countries have found the Nations League too much to deal with, between traveling long distances, assuring proper accommodation and putting together full squads. Some reportedly have asked to pull out of the competition. But Zubiria said all federations are ready to push on despite a number of administrative challenges popping up during the tournament.  
"We don't have any information from any of our members who have raised the flag saying, 'I can't.' That's not true and that's not happening," he said. "Every team is already ready to play for the next round, and it'll be leading to some great matchups in March because a lot will be determined on the last day, whether it's League A or Gold Cup spots." 
The Spain native also said he's been pleased by media attention from outlets as diverse as the BBC and Spanish sports daily Marca, which highlighted nations recovering from hurricane damage rallying around the matches as points of national pride. Despite many originating from remote locations, all matches have been streamed online through a Concacaf-branded platform, with most going off without a hitch. 
"We went into this tournament, the Nations League qualifiers, focusing a lot on just delivering the matches and making sure we were able to get everything in during the FIFA windows, especially because it's a qualifier for Gold Cup," he said. "So we changed a lot of things within our whole competition structure. We were very pleasantly surprised by the pick-up internationally." 
After the March 2019 FIFA window, the top 10 teams in Nations League qualification plus the six sides that were in the previous Hexagonal will contest the expanded Gold Cup in June. In September, the Nations League proper will begin.