World Cup
Clive Barker: Bafana Bafana had more success with local than foreign coaches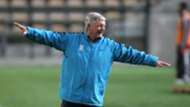 Legendary Bafana Bafana coach Clive Barker feels the side has had more success with local coaches like himself, Jomo Sono and Shakes Mashaba.
"I have nothing against Stuart [Baxter], but if you look at when the team has played their best, it has been under one of own coaches. I, Jomo Sono and Shakes Mashaba did well," Barker told Sowetan.
Stuart Baxter is under immense pressure with results going against him after he failed to qualify for the 2018 Fifa World Cup.
Just as in 2004, Baxter replaced Mashaba, whom Barker believes Safa should have retained.
"I think firing Shakes was a mistake - at least at that time, in the middle of qualifiers. We stuck to what we know and did not try to copy the style of Brazil or Germany because we [the team] were ourselves," Mashaba said.
Given the state of affairs, 'The Dog' has joined the chorus of ex-players such as Mark Fish, Lucas Radebe, Linda Buthelezi and Sibusiso Zuma to bring alterations to the Safa hierarchy. He has even offered his help in any given capacity.
"I always thought that it would make sense to ask or approach me to contribute in any way possible," Barker said.
"It's time for a change at Safa," Barker added.