Juventus
Buffon: This could be my final season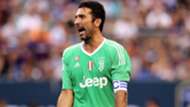 Juventus legend Gianluigi Buffon has admitted that he could retire at the end of the season.
Get Juventus Serie A title odds
The 39-year-old is entering his 17th campaign with the Serie A champions but has said it could also be his last.
"This could be my final year and it's really electrifying," he admitted. "I want to try and enjoy the special aspect of things, like with all experiences. When you go to a place and think that it is the last time, you appreciate the beauty more and want to remember the emotions it brings you forever.
"It will be special as a season, but I want to make it even more formidable by performing to the best of my ability, which could help Juve repeat the achievements we've done in the past."
Despite a storied career that includes eight Serie A titles and the 2006 World Cup, the Champions League trophy continues to elude the goalkeeper, who is insistent his career will not be defined by his success or failure in that competition.
"It does not give me anxiety or make me anxious," he said. "It's never had a negative meaning for me, and it doesn't now.
"The Champions League has always been a motivation to improve and enjoy some emotions, like facing certain players in certain stadiums."
Juventus in for Balde & Matuidi
The former Parma shot-stopper may see World Cup 2018 as a logical stopping point for his career, by which time he will have turned 40.