Pedro
Brazil's revelation of 2018, Pedro targets Selecao return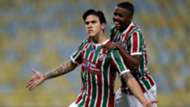 21-year-old Fluminense striker Pedro was in the form of life. Banging in goal after goal in the Brasileirao, he was increasingly looking like the traditional no.9 Brazil coach Tite had long been searching for.
He was deservedly included in the first post-World Cup Brazil squad for the Brasil Global Tour matches against USA and El Salvador. 
"This is Pedro's time, as he is playing well," Tite said. With 10 goals in 15 games, a whole host of European clubs were said to be battling over his signature. Pedro was on the up.
O atacante Pedro, do @FluminenseFC será a revelação do Campeonato Brasileiro. Aprovam? pic.twitter.com/s4REGhO4xg

— Raisa Simplicio (@simpraisa) December 3, 2018
And then injury brought him crashing back down. A serious knee injury would end his year. His brilliant form prior to the injury was highlighted this week as he took the prestigious Revelação do Campeonato award, handed out to the best newcomer in the Brazilian top flight.
"This was a year full of emotions, but it was a great year for me," he said. "I had the dream of being called up by the national team and I know I'm going to come back even stronger next year. It was a positive year for me."
Pedro's place in September was handed to his former team-mate and great friend, Richarlison, who quickly went on to establish himself as a regular in the squad. But Pedro isn't bitter; in fact, he has been delighted by the Everton forward's progress.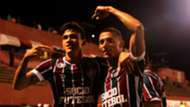 "Richarlison sent me only his support, telling me that I was going to come back stronger. He is a friend and I'm very happy for his success. He deserves everything he's achieved in his career."
Pedro is now working hard to prepare himself for the start of the new season and is hoping to get another chance with the Selecao when the Brasil Global Tour resumes in March.