A-League
Boogaard: Jets gifted Glory goals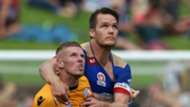 Frustrated Newcastle Jets skipper Nigel Boogaard slammed his team for throwing away victory after they drew 2-2 with Perth Glory on Sunday.
Boogaard claimed Glory's two goals were "gifts" from Newcastle, while Perth striker Adam Taggart, who scored the opener, argued the visitors are back on track after a rocky festive period.
The Jets overcame a shaky start to lead 2-1 at the break at McDonald Jones Stadium thanks to a penalty from Mateo Poljak and another goal to in-form Andrew Nabbout.
But a lapse in concentration early in the second half allowed Glory to equalise through Andy Keogh, with the two sides forced to share the spoils after a see-sawing 90 minutes.
"We threw away three points. The two goals were gifts for them," Boogaard told Fox Sports.
"I'm disappointed we couldn't come away with the result. [Slow starts] has been a problem for us all year. We can't start like that against anyone, regardless of who it is.
"And again it's goals and mistakes. It's not good enough from all of us at this level.
"We worked hard to get back into the game and get in front and then we throw it away again. We have to take a look at ourselves if we're serious of making the top six. It's not good enough."
Taggart gave Perth the lead in the seventh minute against his former club after Jets defender Lachlan Jackson scuffed his attempted clearance into the striker's path.
Keogh's goal came in the 56th minute as he was left completely unmarked at the back post to tap Chris Harold's cross into the net.
Having lost five of eight matches from the end of October to mid-December, Sunday's draw extended Perth's current unbeaten streak to four games.
"In patches we were really good. It's definitely an improvement on recent weeks," Taggart told Fox Sports.
"At the end of the day that's now four games unbeaten and we just have to make sure we're hard to beat. It's a step forward but disappointing not to get the three points.
"We're going in the right direction and we're starting to click a little bit more now."