WTF
Beckham releases Christmas charity single, but it's not David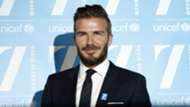 ---
EXTRA TIME
---
Having David Beckham as a dad would be pretty handy to any ambitious youngster, if not only for the number of doors he could open with a click of his fingers. 
RUMOURS: Alexis offered £400,000 a week to leave Arsenal
But, rather than follow his old man and his elder brother Brooklyn into the world of football, Cruz Beckham has decided that it's his mother's career path that he wants to replicate. 
The 11-year-old recently signed by Scooter Braun, who manages the likes of Justin Bieber and Usher, is set to release his first single - 'If everyday was Christmas' - with all profits going to Global's Make Some Noise foundation.
And the kid has some serious talent. 
Put on the spot and asked to perform a snippet of the song for the listeners of Capital FM, on which it was exclusively played, Cruz delivered without hesitation. 
"It's a combination of two of my favourite things," Beckham Jr told the hosts when questioned about his debut song. "Singing and Christmas."
Cruz also lifted the lid on the Beckhams' Christmas traditions, saying: "We always wake up at 6am, we go downstairs and my dad says 'wait, let me check if there are presents downstairs'. Then, he comes back up and pretends there are none."
Who knew, David Beckham cracks the same cheesy jokes as every other dad in the country?
David then joins his son on-screen, before jesting that it's strange his son is stealing his spotlight and declaring his pride at what his son is doing.
Then, when asked what makes him cross as a reference to his name's translation in Spanish, he replies: "When Manchester United lose."
You'd have thought that he'd be used it by now.