Pierre-Emerick Aubameyang
Aubameyang talks up Tuchel: He's a bit like Guardiola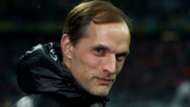 Pierre-Emerick Aubameyang has hailed the managerial qualities of former Dortmund boss Thomas Tuchel.
The 44-year-old has been out of work throughout this season after leaving BVB last summer, where he had been Aubameyang's boss for two seasons.
Although Tuchel has been tentatively linked with succeeding Arsene Wenger at the Emirates Stadium, he has been widely associated with a move to Paris Saint-Germain in the summer.
Aubameyang believes it would be a successful marriage.
"He's one of the best coaches that I've had," he said. "I can't deny his talent.
"He could be very good for PSG. If he goes there, we'll need to see how he manages the dressing room, because I think it's always hardest at big clubs."
Aubameyang felt that he had a strong rapport with the German due to his mentality.
"He's someone a bit crazy, a little like me," he said. "You could say that his style is a bit like that of Guardiola. In any case, they play with the same spirit.
"He likes to keep the ball with a style of play that likes to see the ball move forward, no matter what happens.
"I think he's got the stuff. Now, it'll be up to him to prove it."
Despite being on the verge of a domestic treble, PSG boss Unai Emery is expected to be relieved of his position in the summer after successive defeats at the last-16 stage of the Champions League.