Chelsea
Atletico's Oblak could be Courtois' clone at Chelsea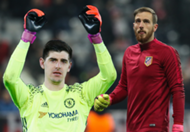 ---
COMMENT
---
One way or another, Chelsea can be expected to start the 2017-18 campaign with an international goalkeeper between the sticks.
There is also every chance that the man filling the No. 1 berth on the teamsheet will be a towering presence who has previously impressed while on the books at Atletico Madrid.
'Madrid should move for Courtois'
The only question at this stage is whether the Blues' last line of defence will be Thibaut Courtois or someone else.
With the Belgian continuing to be heavily linked with a summer switch to Real Madrid, suitable cover may be required at Stamford Bridge when the transfer window re-opens.
That may not be the only hole needing to be plugged either, with it remarkable to think that Chelsea could end the season as Premier League champions – potentially league and FA Cup double winners – and yet see two key figures at opposing ends of the field head for the exits.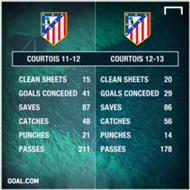 As speculation continues to shroud Courtois' future, Diego Costa is also providing plenty of copy for gossip column compilers.
However, while financial matters appear to have turned the Spain international striker's head, it is personal preference which is causing conflict in Courtois' mind.
Chelsea's plan to replace Courtois
He has never made any secret of his love of La Liga or the Spanish capital where he was so warmly embraced during three productive seasons spent on loan at Atletico.
The opportunity to head back to a place he considers to be something of a spiritual home at one of world football's most prestigious clubs may be too good to turn down, regardless of Chelsea's desire to retain his services.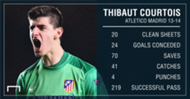 That is where Jan Oblak enters the equation – a shot-stopper with prior experience of filling Courtois' sizeable boots.
With Chelsea having acknowledged that Petr Cech's days as first-choice in west London were over back in 2014, Atletico saw a successful agreement with the Blues come to an end.
'Madrid interest in Courtois is normal'
With Courtois returned to England, Diego Simeone opted to snap up a goalkeeper who had hardly been setting the world alight in Portugal with Benfica.
Oblak has, however, shown himself to be an able deputy for a figure his career path could be about to cross for a second time.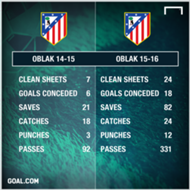 The Slovenia international is not quite as imposing as Courtois, standing a full four inches shorter in height, but there are reasons why Chelsea's gaze is reported to have turned in his direction – not least the fact that both men are currently 24 years of age, so no long-term plans would be impacted.
To pick at the figures scattered in the graphics throughout this article, there is plenty to suggest that Oblak would be a more than capable successor to Courtois in England – as he has been in Spain.
Alonso hopes Chelsea keep Courtois
In general he fares favourably to his Belgian counterpart, taking into the account that these numbers focus on league outings only and not domestic cup competitions or the Champions League – a tournament both men have graced the final of while at Atletico.
Simeone's side have not been as strong on the home front in recent years as they were during Courtois' spell, when they captured a memorable top-flight crown to accompany Copa del Rey, Europa League and UEFA Super Cup triumphs.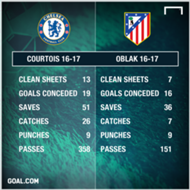 Oblak, though, can claim to have bettered his predecessor in a number of departments despite turning out in a slightly weaker side.
His performances in 2015-16 – his only full season as undisputed first choice – saw him record more clean sheets over the course of a single campaign than Courtois ever managed at Atleti, while also conceding fewer goals.
He tends to make as many saves when called upon to do so, while his passing success helps to highlight that he is comfortable with the ball on the deck – a skill set which should stand him in good stead were he to head to Stamford Bridge.
Oblak does punch more frequently than Courtois, but the Belgian appears to have fine tuned his game down the years to move away from a more continental style and towards one better suited to the Premier League – which the Slovenian could also do if required in England.
All in all – as long as he shows no ill effects from recent shoulder surgery – Oblak looks to be a solid option for Chelsea if they decide to go down that route this summer, with Atletico having already shown that he can be considered a useful Courtois clone.