Liga MX
America books spot in Liga MX final vs. Cruz Azul
10:14 AM GMT+4
10/12/2018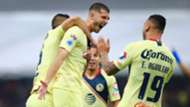 The Liga MX Apertura title will be decided at the Estadio Azteca.
Club America smashed fellow Mexico City club Pumas 6-1 at the historic venue Sunday night to take a 7-2 aggregate victory in the semifinal and move into the final against Cruz Azul. America has long played its home matches at the Azteca, while Cruz Azul left the Estadio Azul at the start of this tournament and temporarily moved into the "Coloso de Santa Ursula."
The matchup had been telegraphed for several weeks, with Cruz Azul the top seed heading into the postseason and America the No. 2. The teams last met in a final in the 2013 Clausura.
The Azteca hosted both legs of the final after the 2002 Verano tournament with Necaxa, a club that moved to Aguascalientes but played for years in Mexico City, and America squaring off there over a full series.
While this tournament's final already is eagerly anticipated, it will be difficult to top the drama of the 2013 clash. America found itself down 2-0 on aggregate after Teofilo Gutierrez's goal in the 20th minute, but Aquivaldo Mosquera found the back of the net in the 88th minute to halve the deficit. 
Still needing a goal, America goalkeeper Moises Munoz came forward for a corner kick in stoppage time of the second leg and headed in a goal that leveled the aggregate series. Las Aguilas won the penalty shootout that ensued.
While already present, that series solidified the meme of "CruzAzulear", meaning to snatch defeat from the jaws of victory. This year's edition of La Maquina are yet to have many missteps, though.
After an offseason rebuild led by new sporting director Ricardo Pelaez that saw several proven Liga MX players arrive in Pedro Caixinha's squad, Cruz Azul not only finished first in the league but won Copa MX by topping Monterrey. His side beat that same Monterrey team in the semifinals, with Rayados winning the first leg 1-0 but Cruz Azul taking the second leg by the same margin to advance thanks to a better regular season finish.
Cruz Azul is searching for its ninth league title but the first since 1997, while America is attempting to add to its league-leading 12 Liga MX championships with its first trophy since the 2014 Apertura.