Liverpool
Alisson's tears almost led him to snub £65m Liverpool move
12:59 PM GMT+4
02/10/2018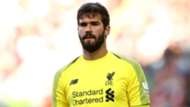 Alisson has admitted to having "cried a lot" as he headed for the exits at Roma, with the prospect of shunning a £65 million ($85m) switch to Liverpool having crossed his mind.
The 26-year-old was quickly identified as a top target for Reds boss Jurgen Klopp once the decision was taken at Anfield to bring in a new goalkeeper.
The Brazil international was considered to boast all of the attributes required to star in England and provide the answer to a problematic position on Merseyside.
Liverpool pieced together a then world-record transfer package, but Alisson still took some persuading to turn his back on Serie A and head for the Premier League.
He told Gazzetta dello Sport on the personal battles he fought before committing to a big-money switch: "Leaving Rome was difficult.
"I cried a lot, together with my wife. It's only right that I'm honest about it. I made a professional decision, a step forward in my career and for Roma, who earned a huge sum.
"I decided with my head to move to Liverpool, but my heart was full of tears. I spent two special years in Rome. My daughter was born there and I have a lot of friends there outside of football.
"Many times I'd spend the night walking the city streets: the Trevi fountain, in the dark, is so beautiful it moves you, but the Colosseum is my favourite place - you can breathe history there.
"[Staying] went through my mind a lot because I was so happy in Rome, but when a player decides where to play, it's a much bigger discussion.
"I've got big ambitions and so do Liverpool, and now I'm playing in the biggest league in the world. [Serie A is] not far behind, it's just different and less intense."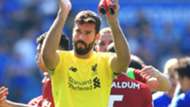 The presence of Klopp at Liverpool ultimately helped to convince Alisson that he was making the right decision.
The German coach is a manager he has admired for a long time, and one who fought hard to secure his services and make him feel as valued as possible.
"When the two clubs reached an agreement, Klopp called me a few times on FaceTime and he explained to me his project and what we would do together," Alisson said.
"I've admired him for a while, since his Dortmund days. I like being coached by him because he doesn't say much, but he always knows what to say and how to say it."
The South American added on Klopp's response to his mistake during a Premier League game at Leicester: "He's an intelligent man with character. [After the game] he came into the dressing room and started joking. He dealt with it in the best way possible, since I already knew I'd embarrassed myself.
"Then he told me not to lose faith and to carry on playing that way."