A-League
Victoria Patriots press on with Geelong stadium plans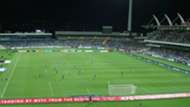 Victoria Patriots have unveiled draft plans for a boutique football stadium in Geelong as they continue their push to join the A-League.
While Football Federation Australia confirmed this week that A-League expansion will at least wait until the 2018-19 season, Geelong's bid team are continuing to work towards putting themselves in pole position.
COMMENT: FFA is dithering again
Since the Geelong bid, which is fronted by former Socceroos defender Steve Horvat, was made public earlier this year it has been a clear goal to build a football-specific stadium for the proposed club.
In a report in the Geelong Advertiser on Friday, Victoria Patriots advisory board member Jo Plummer revealed one of the proposed locations for the club's home ground is in Armstrong Creek - a southern suburb of Victoria's second-largest city.
"It would be really great for the region and for our bid to have a purpose-built rectangular stadium. That's absolutely on the agenda," Plummer said.
New stadium will be 'immense' for western Victoria - Horvat
"In terms of its position, it needs to tick all the boxes. It needs to consider the greater western Victoria region so there are a number of options that we could look at.
"[But there are] a couple of stages. There is a stadium [Simonds Stadium] in the region and we are in conversations with the [Kardinia Park Stadium] Trust in that space.
"Going forward, one would think given the capacity we have at that stadium, there would always be a role for them to play."
Geelong's A-League bid unveils advisory board
Plummer added that a new home for the Geelong-based A-League club would have a capacity of between 15,000 and 20,000, while indicating that Simonds Stadium - where the local AFL side plays - could be utilised for marquee fixtures such as finals.
Simonds Stadium is undergoing a redevelopment to expand its capacity to 36,000 seats, with the oval venue having previously hosted Melbourne Victory in both the A-League and AFC Champions League.
FC Tasmania planning new stadium
According to the Geelong Advertiser's report, stadium designers Populous have included extra football and hockey pitches as part of their plans as well as parking and tennis courts.
Populous have previously designed Suncorp Stadium, ANZ Stadium and Etihad Stadium in Australia.