Juventus
Ronaldo's incredible scoring record against Valencia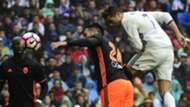 The Champions League and Cristiano Ronaldo are reunited on Wednesday, and so too are the inconic goalscorer and one particular club who must have hoped they had seen the back of the Juventus star this summer. 
Having lifted the European trophy in four of the last five seasons, Cristiano is now aiming for a sixth after completing a €112 million (£100m/$130m) move from Real Madrid in the off-season. 
As well as trophies, the Portuguese forward also holds the record for most goals scored in the Champions League, an incredible 120 strikes over the course of his career with Manchester United and Madrid that puts him well clear of nearest rival Lionel Messi, the Argentine now standing on 106 after a sparkling hat-trick against PSV on Tuesday. 
Both players have rewritten the history books when it comes to prowess in front of the net, setting milestones that may prove impossible to beat even when the pair eventually hang up their boots. 
And along the way they have left many supporters cursing their existence, as they have made life hell for them season after goal-happy season. 
Unfortunately for Valencia, their Ronaldo-related misery could well continue on Wednesday, as the Champions League draw set up a clash with Ronaldo's new club in the very first game of Group H. 
The striker boasts an enviable record against Los Che, who have consistently been one of his more long-suffering victims over the years in Spain. 
He has found the Valencia net no less than 15 times in 18 games, a strike-rate of 0.83 goals a game. 
It is fellow La Liga side Sevilla nevertheless who hold the dubious distinction of being Ronaldo's favourite opponents, shipping an incredible 27 to the forward at a rate of one and a half goals a game. 
| Opponent | Goals | Games |
| --- | --- | --- |
| Sevilla | 27 | 18 |
| Getafe | 23 | 14 |
| Atletico Madrid | 22 | 31 |
| Celta | 20 | 13 |
| Barcelona | 18 | 33 |
| Athletic | 17 | 18 |
| Malaga | 17 | 19 |
| Real Sociedad | 15 | 9 |
| Espanyol | 15 | 16 |
| Valencia | 15 | 18 |
Getafe, Atletico Madrid and Celta follow in the rankings, as do Barcelona, who have conceded 18 to Cristiano over years of Clasico clashes - a rate that, while impressive, is some way behind Messi's tally of 26 against Madrid.
At the other end of the spectrum, Benfica are the only side to have kept Ronaldo away from the goal during five games or more. 
Chelsea have also fared well, conceding just once in 1217 minutes against Portugal's captain. 
Will Valencia fare better against their old nemesis following his move to Serie A? Or will there be a sense of deja vu around the Mestalla on Wednesday as Ronaldo batters his way to even more goals against Los Che?