Andrea Pirlo
Pirlo says goodbye to fans after career comes to an end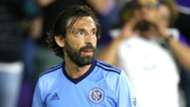 Andrea Pirlo has thanked New York City FC fans for their support after he played the last game of his career on Sunday.
The 38-year-old midfielder made a late substitute appearance as NYCFC were eliminated from the MLS playoffs by the Columbus Crew.
The former AC Milan and Juventus star had already confirmed he would be bringing an end to his career when his contract ends in December, but with no games left this season for New York City, he has kicked his last ball in professional football.
A winner of six Serie A titles, two Champions League crowns and a World Cup, the Italy legend bowed out with a special message for team-mates and fans.
"Last match in MLS. As my time in NYFC comes to an end I would like to say few words," he wrote on social media.
"I want to thank everybody for the kindness and support they have shown me in this incredible city. Thank you to the amazing supporters, thank you to the coaching staff and everybody that work behind the scene, thank you to my teammates.
"Not only my adventure in NY comes to an end but my journey as a football player as well, that is why I would like to take the opportunity to thank my family and my children for the support and love they always give me, every team that I had the honor to play for, every teammate I have been pleased to play alongside, all the people that made my career such incredible and last but not least, all the fans around the world that always showed me support.
November 6, 2017
"You will always be on my side and in my heart."
Pirlo has already been linked with a move into coaching, with reports claiming he could head to Chelsea to become Antonio Conte's assistant.
However, he said in October that he still has to decide on what is next.
"I'll do something else, I'll be back in Italy in December," he said. "Work with Conte? They say things, I have some ideas, but give me time to decide."