World Cup
Wilshere: England is in my blood and the door hasn't closed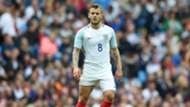 Jack Wilshere says England is still "in my blood", with the former Arsenal midfielder adamant that the international door has not been closed on him.
Despite having avoided the injury struggles which have blighted his career to date in 2017-18, the 26-year-old was still overlooked by Gareth Southgate for World Cup duty.
Wilshere disagreed with that decision and was clearly frustrated to miss out on a seat on the plane to Russia, but he has continued to follow the efforts of the Three Lions as they chase down global glory.
He hopes he will be drafted back into the fold at some stage, with fresh starts aplenty set to be made this summer as he looks to find a new club after dropping into the free agent pool after 17 years with Arsenal.
Wilshere told the Daily Star on his England experience in the present and hopes for the future: "It's not difficult watching it [the World Cup].
"I said even when I was left out, I am an England fan and I'll be supporting the boys. It's in my blood, it's too hard not to.
"I remember for the first game I was in Ibiza with my missus and kids. We found some little bar somewhere because I felt I had to watch it.
"I'm enjoying it and I'm looking forward to watching them tonight [against Colombia].
"With regards to the future, Gareth said the door was still open to me and I wished him well for the tournament."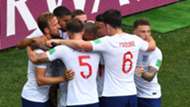 Wilshere has seen England make their way to the last 16, with it his opinion that the right call was made by Southgate when making sweeping changes for a 1-0 defeat to Belgium which has left the Three Lions in the more favourable half of the draw.
He added: "I think it was important for the players in the squad.
"I've been in tournaments before when you've been away for a while and you're not really playing, you're just training. Sometimes you can feel like you're not really part of it.
"I think it was a good decision, we had qualified and it didn't really matter if we came first or second. Some have argued we are almost better off finishing second.
"You can help build momentum in training by keeping the pace and intensity high. Make things happen in training and then you can transfer that onto the pitch.
"Gareth will probably make a few changes again tonight and the players will feel fresher and raring to go."