China PR v India
China PR vs India: Marcello Lippi - India has performed well recently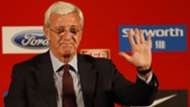 China were held to a goalless draw by India at the Suzhou Olympic Sports Centre, Suzhou, on Saturday. Marcelo Lippi's team have failed to find the back of the net in their last three international friendlies against Qatar, Bahrain and India.
The former Juventus boss highlighted that several of his key players weren't ready for the game against India due to injury worries.
"The three games are really a serious warning for us. With the Chinese Super League (CSL) in its business end, we don't have many players in the national team setup who will go to the Asian Cup. Some players are injured and you have to understand the fierceness of the CSL. Some players clearly didn't take this friendly and national team seriously. But please understand that it is because it is going to be a tight league competition. So people have to understand that," said Lippi.
He did express his surprise given the manner in which the Indian team performed especially after the Under-23 side had lost to the Maldives in the SAFF Championship final.
"The Indian team has performed well recently but they have recently lost 1-2 to the Maldives. I think sometimes it is hard to predict the result of a football match. We don't have enough strength and the form is not good enough to win this match with confidence," he pointed.
He rued the fact that his strikers once again fluffed the opportunities which came their way.
"We did not play well in the first half and we adjusted it in the second half to create many opportunities. However, the team has always lacked the finishing instinct. The team's luck is also very poor. This has also challenged my personal decisions. But we will find ways to adjust the state of the team in the Asian Cup," he signed off as they will now focus on next week's game against Syria.