Transfers
New York Cosmos now have four players signed for 2017 season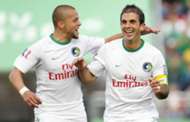 Just weeks after releasing all of its players, one of North America's most iconic soccer clubs appears to be alive and well. 
The back-to-back NASL champion New York Cosmos continue to build their roster for the upcoming season, announcing the re-signing of captain Carlos Mendes on Thursday. The move to bring back the 36-year-old defender gives the Cosmos four players signed to contracts.
U.S. international Spector headed to MLS
"Carlos is unique both on and off the field and his role as captain is more important than ever now," Cosmos coach Giovanni Savarese said in a statement.
It's been a rough few months for the Cosmos, who faced an uncertain future after failing to secure a new stadium amid severe financial issues. They released their entire squad after winning their third NASL title in four years after resurrecting the club in 2013.
But the Cosmos — who over 30 years ago featured the likes of Pelé, Giorgio Chinaglia, Carlos Alberto and Franz Beckenbauer — were recently acquired by cable TV magnate Rocco Commisso and announced earlier this month that they will be back in the North American second division in 2017. 
On Carlos Mendes: "Carlos has been crucial to the club's success since making his Cosmos debut in 2013," says Rocco Commisso.

— New York Cosmos (@NYCosmos) January 19, 2017
"I'm very happy that we have secured his return as captain of the team as we embark on our new season.

— New York Cosmos (@NYCosmos) January 19, 2017
"Gio is making great headway with rebuilding the roster and we expect more player announcements soon," he added.

— New York Cosmos (@NYCosmos) January 19, 2017
"At the Cosmos, we've always conducted ourselves as a family, so the last few months have been extremely difficult on many levels," Mendes said. "With Mr. Commisso's purchase of the club, I feel reassured that the team will continue in the direction we had always planned, bringing good quality soccer to the field and helping to grow the sport in our country."
Ryan Richter, David Ochieng and Eric Calvillo are listed as the other players on the roster, according to the team's official website.