Viva Kuba! Poland's Euro 2016 hero triumphing after childhood tragedy
Nothing has come easy for Jakub Blaszczykowski in life, yet the tireless midfielder remains Poland's most decisive big-match player, pushing even Robert Lewandowski into the shade so far at Euro 2016.
When it has really mattered, nobody has been more consistently vital to the Poles. In European Championship finals he has decisively contributed to five of his side's last six goals, dating back to their faltering 2012 campaign when they were eliminated as co-hosts in the group stages.
This time around they have fared notably better, breaking new ground in the process. Thanks to a robust defence, Poland have progressed unbeaten to the quarter-finals, conceding only once in the process – and that an unstoppable wondergoal from Xherdan Shaqiri.
Much of the talk around the side has centred on the misfiring form of Lewandowski, and the squad would probably be on their summer holidays if it wasn't for the man known as 'Kuba', who was written off by critics before the competition.
"There were quite a few who had already drawn a line under his international career in their thoughts," Lukasz Piszczek told Kicker. "Kuba has had the last laugh."
 
With Poland struggling to find a way through against Northern Ireland in their opening match, it was Blaszczykowski who set up Arkadiusz Milik to score the only goal of the game and hand his side a vital three points. Although the Poles were wasteful in their next outing against Germany, a scoreless draw, Kuba took it upon himself to strike the winner versus Ukraine in the final group game.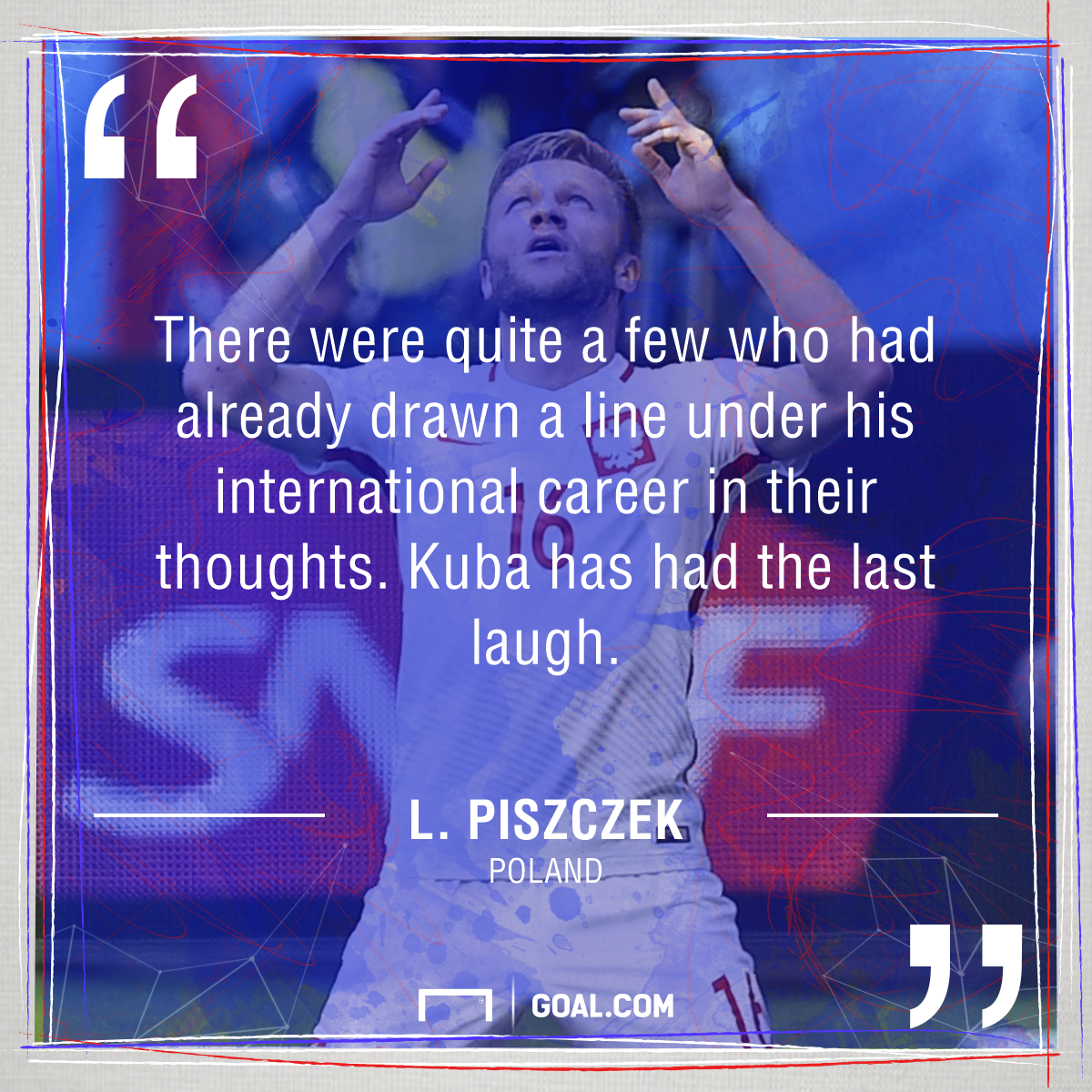 A similar story seemed to be playing out in their round of 16 encounter with the Swiss. While Lewandowski was mute, unable to get his first shot on target in the whole tournament until the second half of that game, Milik continued in his profligate manner. Kuba, though, bucked the trend of his team-mates with a composed finish past Yann Sommer before the break.
It was a crucial breakthrough. Poland were tiring and offered little in the way of attacking threat in the final half hour. While it took Shaqiri's magical acrobatic strike to level matters, there was little doubt that the Swiss were in the ascendancy by the time penalties rolled around.
Of course, Blaszczykowski stepped up to score his as Adam Nawalka's side progressed 5-4 with a succession of excellent kicks.
This tenacity and mental fortitude that Blaszczykowski shows on the field is a reflection on his willingness to battle his way through a complicated life.
When he was just 11, he witnessed his father stabbing his mother to death, and was brought up by his grandmother. Had it not been for the intervention of Jerzy Brzeczek, his uncle who once captained the Poland national side, Kuba might well have given the game up. Instead he has followed in his relation's footsteps and wore the armband during Euro 2012.
"This will stay with me for my entire life. I'd give anything for my mother to be still alive," Blaszczykowski, who celebrates his goals by pointing to the heavens in remembrance, told Polish television in 2010 in a rare interview about his past.
"What happened turned my life around by 180 degrees. It's like a rock fell on your head, and after a week you wake up and have to start life all over again. I'll never understand what happened, nor why."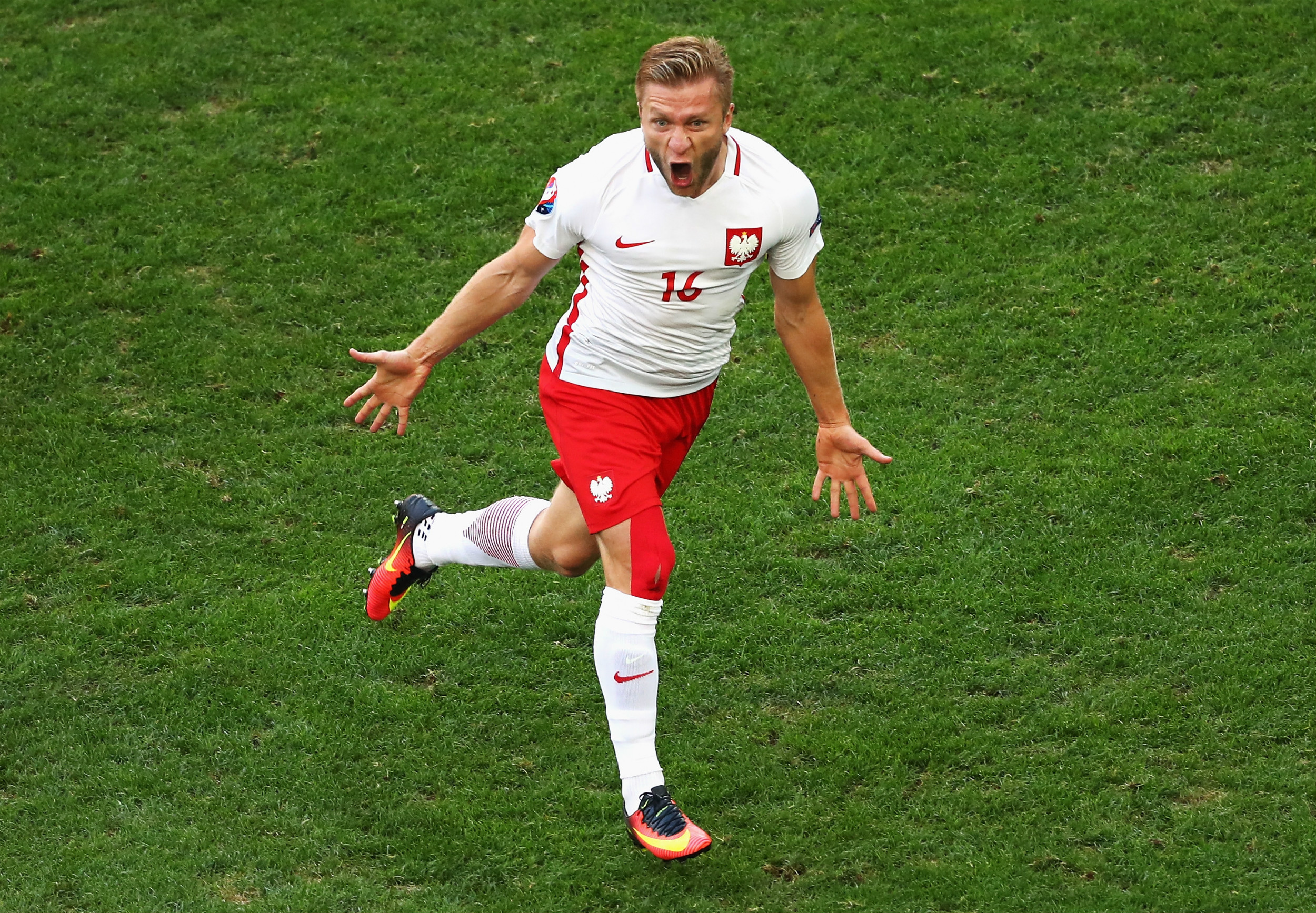 In a twist of fate, Blaszczykowski's father died shortly before Euro 2012 began, causing his arrival to the country's training camp to be delayed by a day as he attended the funeral. Despite his presence there along with brother Dawid, he had cut off contact with his dad after he was jailed for 15 years. 
In spite of the emotional trauma this would surely have caused, he led his team with distinction in the weeks that followed, notably scoring a decisive late equaliser against Russia to keep his side alive going into the final round of group fixtures.
Now the Dortmund man is shining following more than two difficult years on the field. His problems began four minutes into a Bundesliga match with Augsburg in January 2014, when he suffered a cruciate ligament injury. After recovering from that setback, he wuas blighted by a series of minor but persistent problems in the following campaign.
A move to Fiorentina on loan from BVB, where he won two Bundesliga titles and finished as a runner-up in the Champions League, was made on the final day of the 2015 summer transfer window and was designed as a fresh start. However, he failed to establish himself, starting only three Serie A matches in the second half of the campaign and frequently finding himself marooned, unused, on the bench. 
True to form, though, Kuba has powered through in the face of adversity and, after proving he remains his country's true talisman, is now seeking to fire them to a first European Championship semi-final.
Goal journalists are powered by the Samsung Galaxy S7 and Gear 360