Arsenal
'Ozil looks laid back but he's world class' - Iwobi learning from Arsenal leader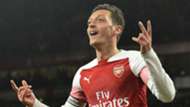 Mesut Ozil has been hailed as "world class" by Arsenal team-mate Alex Iwobi, with the German boasting match-winning ability despite often looking "laid back".
The World Cup-winning midfielder showcased those talents in his most recent outing as he inspired Unai Emery's side to a 3-1 victory over Leicester – their 10th successive win in all competitions.
After seeing the Gunners fall behind to a Hector Bellerin own goal, Ozil set about hauling the hosts back into the game at Emirates Stadium.
He restored parity before helping to lay on two efforts for substitute Pierre-Emerick Aubameyang, with the Foxes unable to contain his vision and creativity.
Iwobi is delighted to be performing alongside a global star and believes Ozil does not get the credit he deserves for his overall impact in north London, telling reporters: "I have been training with him since I was 17 and I have seen what he can do.
"The quality he has is not just in training. He is a world-class player and he proved that again last night.
"He gives me advice in a different way.
"He jokes around but always tells me I can do more - even last night, he was saying I can do more, he is always one of those guys.
"But he is always happy, always telling me and giving me the confidence to express myself, so it helps me.
"Mesut will come across as laid back but he is helping everyone in a different way and he helps me a lot."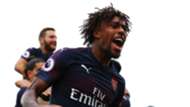 While Iwobi has benefited from working with Ozil on a daily basis, he has also seen the arrival of Emery as successor to Arsene Wenger unlock greater consistency in his game.
The Nigeria international added on the progress he is making in 2018-19: "For me, he has just given me confidence to express myself.
"To believe in my ability, which I have been trying to show, and also in training, he is always letting me try new things, be positive, be direct and prove it in the game.
"It is working for me, so I just have to keep it going.
"I'd just say I am more confident.
"I feel that, even if I make a mistake, I am able to go again. I think that is the difference between me last year and this year."