World Cup
'No different to Neymar' - Henderson causes a stir with hysterical reaction to headbutt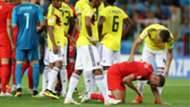 Jordan Henderson admittedly does not very often win comparisons to Brazil star Neymar, but there were plenty of people that saw parallels during England's World Cup clash against Colombia. 
The last-16 tie sparked into life at the end of the first half when a fracas broke out ahead of a free-kick perched dangerously close to David Ospina's penalty area. 
Henderson was sent tumbling to the floor by Colombia's Boca Juniors enforcer, Wilmar Barrios, who appeared to head butt the midfielder. 
But while Barrios' most likely merited a red card rather than the yellow eventually showed, Liverpool's star also found himself in the spotlight for his rather exaggerated reaction. 
Coming just 24 hours after Neymar's antics were beamed across the world, is it now safe to say that Henderson is England's answer to the PSG forward?
I'm not saying it isn't a red card offence, but it's interesting that when Jordan Henderson is glanced on the chin and goes down grabbing his eyes, it means "he felt it", but when it's a forei – you know what, forget it.

— Huw Davies (@thehuwdavies) 3 de julio de 2018
Hope Alan Shearer is making a harsh tweet about Henderson like he made about Neymar. Sure, there's contact, but ridiculous to react like that.

If you criticize Neymar for that, you have to do the same for Henderson.

— EiF (@EiFSoccer) 3 de julio de 2018
Yellow card for a headbutt. You have to be kidding.

— Gary Lineker (@GaryLineker) 3 de julio de 2018
Well at least we understand the rules now, a headbutt is a yellow card. Okay. pic.twitter.com/bA79Tc7gp2

— MGH (@OfficialMgh) 3 de julio de 2018
Barrios deserves a red for the headbutt on Henderson's chin. Henderson deserves a red for holding his forehead. #COL #ENG #COLENG #WorldCup

— Kris Voakes (@krisvoakes) 3 de julio de 2018
Headbutts are yellow cards now? Better recall that Zidane red then. #WorldCup #ENG #COL

— Nizaar Kinsella (@NizaarKinsella) 3 de julio de 2018
Henderson pic.twitter.com/P1dTmAvOKT

— Rupert Fryer (@Rupert_Fryer) 3 de julio de 2018
Should've been red. No question. #WorldCup

— Sir Geoff Hurst (@TheGeoffHurst) 3 de julio de 2018
Henderson graduated from Neymar's diving school

— colombian af (@BeiingColombian) 3 de julio de 2018
Waiting to hear the condemnations of Henderson's histrionics.

— Fernando Duarte (@Fernando_Duarte) 3 de julio de 2018
God, I really hope Henderson doesn't lose an eye from that 'headbutt'. Oh, it seems like he's fine now. Thought he might lose an eye. Because that's what he was holding.

— chris o'dowd (@BigBoyler) 3 de julio de 2018