Cyprus Women's Cup
Janine Van Wyk reflects on South Africa's Cyprus Women's Cup misadventure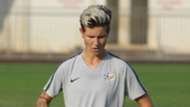 Janine Van Wyk has admitted that her South African side are disappointed following a poor outing at the 2019 Cyprus Women's Cup.
Wednesday's 3-0 loss to Finland saw Banyana Banyana suffer their third consecutive defeats - on the heels of losses to Korea DPR and Czech Republic after a 2-2 draw with the Finnish.
So far, the Africans remain without a win in six pre-Women's World Cup preparation matches in 2019, having lost four times and drawn twice.
And the 31-year-old felt they could have done better at the 12-nation invitational championship.
"I think we feel disappointed with the results that we've been getting," Van Wyk told Safa website.
"I think we could have done a lot better but I taking into consideration that the coach tried to a whole combination of players in certain matches and making a number of changes in every single match.
"There is obviously a reason behind it which was to look at those not getting much game time and see what they are capable of doing and also if there is a need for them to step up for the World Cup and need to be ready.
"The coach also need to see other correct combination of the players for us to go with to the World Cup.  That was understandable but was no excuse for us to get results like we've been. It was very disappointing for us." 
And the defender is confident her side will learn from their Cyprus' disappointing outing and as well bounce back in time for April's showdown with France-bound Jamaica.

"I know we have a lot of work to do after this tournament and we know certain areas we are lacking, especially in the attacking side. We've been working on defensive organisation," she continued.
"In this tournament, we created a lot of opportunities but we just lack that final finishing, which are obvious areas we need to work and concentrate on in the coming weeks for us to get better as a team.
"Of course, it doesn't feel good to get such results but we are in a learning stage at the moment and we have a couple of months to go to the World Cup to sharpen up.
"There is a lot of improvement, though we had bad results there are a lot of positives we can take from the tournament. We need to look forward to our next games and working hard ahead of our game against Jamaica - another World Cup team that defeated Chile.
"It is going to be a massive challenge because we've not played them before. If we can get a good result, I believe will boost our confidence going forward."
South Africa are drawn against Spain, China and Germany in Group B and they will open their debut outing against the Spaniards on June 8 in Le Harve.
With the Mundial four months away, Van Wyk will hope her side will be ready in time to make an impressive maiden outing in France this summer.