Chelsea
Giroud: The day magician Hazard made me go 'f*ck'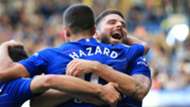 Olivier Giroud considers Chelsea team-mate Eden Hazard to be "a magician", with a first training session alongside the Belgian leaving him stuck for words.
France international striker Giroud made his way to Stamford Bridge in January after making the short journey across London from Arsenal.
Giroud arrived as a proven Premier League performer and a man who had regularly crossed swords with Hazard during his time at Emirates Stadium.
The 32-year-old was, however, to still be left in awe of a talented team-mate when witnessing his stunning skill set at close quarters.
Giroud told Le Figaro of a talismanic club colleague: "When I discover Eden Hazard in training for my first session at Chelsea. I told myself: 'F*ck, it's hard to get the ball off him'.
"Sometimes, there's two or three players around him and he still manages to get out in tight spaces.
"He's a magician, he's impressive. Now, I've started to know him and I don't find myself near him. It's better for him and for me."
Having previously formed part of teams trying to contain Hazard, Giroud is now benefiting from having a contender for the 2018 Ballon d'Or providing him with ammunition.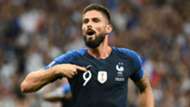 Chelsea are hoping to see that attacking partnership flourish, with Maurizio Sarri also able to call upon the forward-thinking qualities of Pedro, Willian and Alvaro Morata.
A positive start has been made to the 2018-19 campaign, with the Blues still unbeaten across all competitions, and more major silverware is being chased down.
Giroud would welcome the opportunity to get his hands on another trophy, with a man who tasted World Cup glory with his country over the summer having experienced many highs in recent years.
Asked to pick the one day he will savour above all others, the Frenchman said: "There are many.
"The birth of my three children is above all. 
"And, of course, I will never forget this July 15, 2018 and our victory in Moscow. On my death bed, these are the moments that will come back into my mind."