CSL
VIDEO: Yunding and Moreno combine for stunner for Shanghai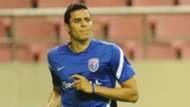 There was plenty of class on display in Shanghai Shenhua's first goal on Saturday, thanks to Gio Moreno and Cao Yunding.
Yunding started the move with a little no-look flick, attempting to get it into the path of Moreno. Though a defender managed to get a touch on it and deflect it up in the air, Moreno was able to chest it down and then hit it hard to make it 1-0 Shanghai in the 75th minute.
WATCH: Dembele in hilarious scrap
A goal like that had the quality worthy of a winner. However, Tianjin Quanjian's Axel Witsel did not let that happen as his 85th-minute finish ensured the points were shared between the sides.