Mauricio Pochettino
'Worst feeling I've had at Tottenham' - Pochettino plays down title talk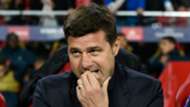 Tottenham boss Mauricio Pochettino insists that his team are still some way short of being genuine contenders for the Premier League title.
Spurs are fifth in the table after nine matches, having won seven games overall and their last four on the bounce, which has left them five points behind leaders Liverpool with a game in hand.
The Lilywhites have the opportunity to close that gap back to two on Monday night when they take on Manchester City at Wembley, in the biggest clash of the week.
Pochettino's men have ground out narrow wins recently despite not being at their best, which is traditionally the hallmark of title contenders, however, the Argentine boss has revealed that he is far from happy.
"The season so far, it's strange because my feeling is the worst feeling I've had in the five years that I've been here," Pochettino told reporters. "It's the worst. My feeling, but it's the best start ever for the club in the Premier League. It's strange, no?
"I don't know, it's so difficult to explain because many things happen, I am disappointed we are still waiting for the new stadium when the expectation was to be there at the beginning of the season.
"I don't know, many things happened in the summer, many things that make myself not in my best mood or best humour. I know I always have a good relationship with you [the press] but my feeling is not the best feeling, I had better feeling in previous seasons."
The 46-year-old head coach has obviously been affected by Tottenham's recent failures in the Champions League, as a 2-2 draw against PSV last week left them needing a miraculous turnaround in their final three group games to qualify for the next round.
Pochettino continued by stressing the fact that despite his team's perceived success, they have still yet to win any silverware, bemoaning their recent failures in big matches which have ultimately cost them a shot at glory.
"I think, like a team, we still didn't win nothing," He added. "We fail but we achieve. And of course always when we arrive at like a final game, we always fail.
"It's about learning to compete. It's about learning to be better. It's about changing something we need to do different.
"Or maybe we are never going to learn because we have some quality but we cannot cross this level. I prefer to think that we will learn more and we need more time to improve as a team. 
"Still we are not showing that level to be a real contender. That is my opinion."
"Today we need to fix other problems and different circumstances that happen that don't help the team or the club to only be focused on winning titles."