Serie A
With Cristiano Ronaldo, Juventus are in another dimension – Crespo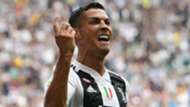 Argentine icon Hernan Crespo has stated his belief that Juventus are 'in another dimension' and will dominate Serie A for years to come.
The Turin side are seven-time defending champions in the Italian top flight and have only reinforced their ranks in recent years, as other sides struggle to close the quality gap on the Old Lady.
The addition of Cristiano Ronaldo in the summer served to highlight that fact, according to Crespo, who feels that Juve will stay head and shoulders above the best of the rest unless they 'self-destruct'.
"Juventus are in another dimension now," the former striker told La Stampa. "I don't see how they could lose the Scudetto without self-destructing.
"It'll be like that for another two or three years, as Cristiano Ronaldo's arrival shows the extent of the gap."
Indeed, a man who turned out for several sides in Serie A, most notably Inter and AC Milan, feels that his former clubs are still playing catch up and will take years to get back to somewhere resembling their former glory.
"[Inter & Milan] are two clubs that are almost new and two teams that are still a work in progress," Crespo said.
"Inter are at a more advanced stage of their development, as after six years they are back in the Champions League and Suning have been working on their project longer than Elliott management.
"Milan are coming off a chaotic period. With Leonardo and Paolo Maldini as directors, at least they are starting to recreate some of their identity, but they need a few more years to get back to the golden era."
While it may be some time before the Milanese giants return to true title contenders, the San Siro sides have found joy in their respective Argentine strikers in Mauro Icardi and Gonzalo Higuain, and Crespo feels that he was a mixture of both stars during his playing days.
"I think Higuain is ideal for Gennaro Gattuso's tactics. The same goes for Icardi at Inter, and Luciano Spalletti's wingers are perfect for setting up a deadly finisher like him," he added.
"I was a mix between the two. I would move like Icardi in front of goal but participate more in build-up play like Higuain."
Inter host Milan on Sunday evening for the first Derby della Madonnina of the Serie A season.