Liverpool
'Win at all costs!' - Liverpool Women targeting derby success to end turbulent campaign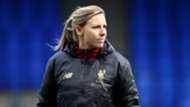 For Vicky Jepson, it would be the perfect end to a difficult season.
Liverpool FC Women will bring down the curtain on their campaign on Saturday afternoon, with Everton Ladies the visitors to Prenton Park.
Though there is little to play for in terms of league position – Liverpool are guaranteed to finish eighth of 11 FA Women's Super League sides, while Everton can finish no higher than ninth – it promises to be a fierce contest.
Everton have won both previous derby matches this season, triumphing 2-1 in early December and then 3-1 a fortnight later.
Unsurprisingly, then, Liverpool boss Jepson is out for revenge.
"We know how much these games mean," she tells  Goal . "Whether it's at under-11s, under-14s or with the senior team, a Merseyside derby is the one you want to win. It's about pride, the honour of the club. 
"We've got to come out fighting after the last two games. For me, having been here 10 years, those defeats were the worst losses of the season. They hurt, trust me. You never want to lose to Everton."
Jepson's season has been a rollercoaster one. She began it as first-team coach, but was asked to step up when Neil Redfearn, appointed as first-team boss last summer, departed after just one game of the new campaign in September.
Along with Chris Kirkland, the former Liverpool and England goalkeeper, Jepson steadied the ship before being handed the role on a permanent basis in late-October.
Results have been mixed since, with Liverpool's chances not helped by injuries to a number of key players. Forwards Niamh Charles and Jess Clarke, in particular, have been missed. Liverpool have scored just 18 goals in 19 WSL matches. 
"It's been tough, because they were important players," says Jepson. "Even looking at the Everton games, we were far from full strength, so I would say Everton were lucky in that respect! 
"Now, touch wood, we've got everybody back fit for this game, so we should be ready."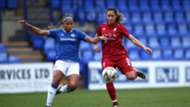 For striker Courtney Sweetman-Kirk, the club's top scorer with 12 goals, a game against Everton carries extra significance. The Leicester-born goalscorer will be facing her former club on Saturday, having left the Blues last summer.
"Maybe a bit!" she smiles when asked if she will be extra motivated this weekend. "But it's more the fact that it's a derby and that we've lost to them twice. It's a big game, for sure."
Sweetman-Kirk was one of a number of players brought to Liverpool by Redfearn, and admits the start of the campaign was a turbulent one. 
She insists, though, that there are no regrets at her decision to swap blue for red.
"Of course it's difficult," she says. "But credit has to go to the club, and to Vicky especially. They kept things as consistent as possible, with the training and the spirit. I can't say anything bad about that.
"But it is hard. There was already a big transition from last season, and Neil brought a lot of players to the club, so it hit us hard when he left. But the work of Vicky, of Adam [Greaves-Smith, the general manager] and of [Liverpool chief executive] Peter Moore has been fantastic. The club have done everything, and I think you've seen as we've settled down that we have played better and picked up points."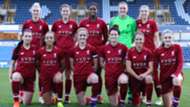 Jepson, meanwhile, reflects on her own journey with a smile.
"I have to pinch myself sometimes, but I never take it for granted," she says. "It's probably come a little sooner than I'd have expected, but it's an honour to be involved with the senior squad. 
"It's always tough for a manager to step into a squad she hasn't selected. I had to get to know the players very quickly, as players and as people. 
"That was a challenge, but I'm already looking forward to next season, when I think we will bring in a few new faces and where I think we will be stronger.
"I look at the top six and I don't think we are too far away. You only have to look at the Bristol performance, when we won 5-2 recently, to see what we are capable of. If we'd have had a full squad all season, with competition on the bench, I think we'd have been much closer."
First, though, there's a derby to be won. 
"I've been involved in 32 of them since I've been at the club," Jepson states. "And no matter what age group, it is win at all costs! It'll be no different on Saturday."
Tickets for Saturday's game between Liverpool Women and Everton Ladies at Prenton Park are available here - Liverpool FC members and season-ticket holders will be admitted free. Kick off is 12.30pm.