Willian: No chance I'd have stayed at Chelsea under Conte

Nizaar Kinsella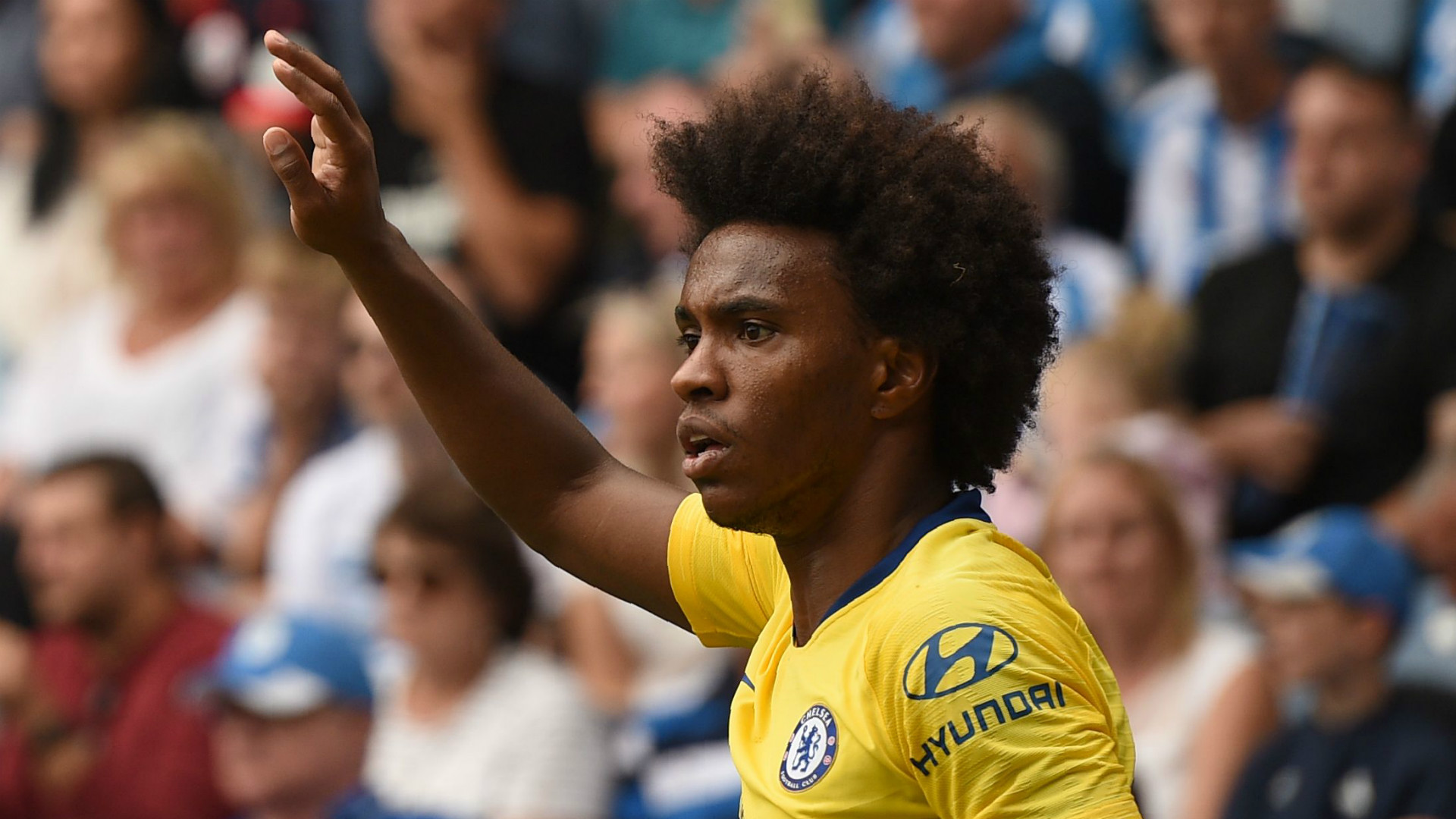 Getty Images
Willian says that there is "no chance" he would have carried on playing for Chelsea under Antonio Conte, but he is happy he stuck around to play for Maurizio Sarri.
Barcelona bid to secure Willian from Chelsea over the summer, although they were put off as the club demanded more than £60 million for the winger, who has also interested Manchester United in recent seasons.
The 30-year-old was a key player towards the end of Conte's reign, but he still didn't see eye-to-eye with his former manager and even placed trophy emoji's over him as he posted his FA Cup celebration pictures to his Instagram page.
However, thoughts of leaving are no longer on his agenda.
"Would I be here if Conte stayed? No chance. No," he said. "I'm here. I'm here because I want to play for Chelsea. I will only leave if Chelsea want me to go."
Chelsea won 3-0 against Huddersfield in their opening Premier League match on Saturday, with N'Golo Kante, Jorginho and Pedro providing the goals at the John Smith's Stadium. Willian featured from the outset of the match and he was impressed by the attacking football on show under Sarri.
"We wanted to start like that. I think we played very well, we had control of the game, we had possession," Willian added. "We always tried to be in control. We played a great game at Huddersfield. We are just in the beginning. We know we have to improve.
"Jorginho has played very well, he has a lot of quality and helps our play build up from the back. I think we played very well. Now we have to continue like that because next week we have a great game to play against Arsenal and we want to win again.
Asked if he was having fun under his new boss, who has a reputation for favouring attacking football, he replied: "I think so. We have a lot of players with quality up front, players like Eden Hazard and Pedro. Players like that want to play football. That's why Sarri talked about 'fun' football because he wants to build from the back. This is what we will try to do this season.
"This is what we do in Brazil and are trying to do here, playing with skill and movement and the manager told us to do that."
Next up is a London derby against Arsenal - a side Chelsea haven't beaten in their last six outings against.
Willian thinks the different style of play will create problems against their London rivals.
"Now we have a different profile of football, a different way to play football," he said. "The manager tells us to play, to enjoy ourselves on the pitch - with responsibility. Now I think we have a different style to play that's why we can create problems for Arsenal."