UEFA Europa League
Why Romero must leave Man Utd to save Argentina career
---
COMMENT
---
Sergio Romero is one of the great survivors of modern football. Five Argentina coaches have come and gone since the hulking goalkeeper made his debut back in September 2009, while Romero himself has crisscrossed Europe in his quest for first-team action, with spells in the Netherlands, Italy, France and, for the last two seasons, England with Manchester United.
There are only two constants from that turbulent period: The 30-year-old shot-stopper failing to find a regular starting role and his place in the national team continuing to be untouchable. Despite spending much of his international career warming the benches across the European continent, Romero has picked up 83 international caps, a record for a country which has boasted goalkeepers of the calibre of Amadeo Carrizo, Ubaldo Fillol and Agustin Cejas in the past.
WATCH: Mou's 17-second interview
With Jorge Sampaoli coming on to the hot seat, however, Romero's luck might just have run out. He may have been impeccable in United's run to the Europa League final, but that is not enough; he has played just 27 times in the last two years and now must either find a club willing to give him regular first-team football, or resign himself to the end of his Albiceleste career.
It is now an open secret that Sampaoli will be the man to replace Edgardo Bauza. And with the soon-to-be ex-Sevilla coach will come new demands on his goalkeeper. Sampaoli shares with Pep Guardiola an admiration for No. 1s that are as good with their feet as with their hands, the model of which they both saw in Claudio Bravo – Bravo and Sampaoli teamed up to win the 2015 Copa America with Chile. The man who comes closest to fitting that profile for Argentina can be found not in Manchester, but in Monterrey.
Nahuel Guzman joins Romero and Geronimo Rulli in Sampaoli's first squad to take on Brazil and Singapore in June, a list that unmistakably carries his trademark even if it does not officially bear his signature. Tigres' first choice has enjoyed spectacular success in Mexico, lifting the Liga MX trophy in consecutive years in the 2015 and 2016 Aperturas and is on course to repeat the triumph in this year's Clausura. Guzman is brilliant off the ground, quick around his box and, perhaps most importantly, a proven performer week-in, week-out. Behind him Rulli, Real Sociedad's wonderfully talented stopper, is the man for the future, as at just 25 he has his best years as a 'keeper wide in front of him.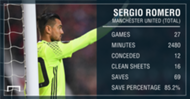 Where, then, does that leave Romero? The current occupant of the jersey will not go out without a fight. Another fine performance against Ajax would keep him in Sampaoli's eye, and he has admitted that regular Europa League games have helped immeasurably in building up his profile and confidence.
"I arrived here in the last year, free, nobody knew me," he told reporters after seeing United past Celta and into the final.
The reason behind Barca's struggles
"Now with the confidence that Jose gives me and the confidence the players give me and the confidence I have this is very important and I will try and do my best for all, for the team."
He has never given anything but his best for Argentina either, plugging away behind countless different defensive line-ups and taking orders from everyone from Diego Maradona to the hapless Bauza. But this time, his best may not be good enough. If he remains a bit-part player at Old Trafford his days are numbered with the Seleccion, and he will have to make the most difficult of choices once the season is up.