Premier League
Why Pep wants Alexis and Bonucci at Man City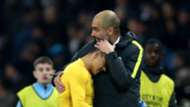 ---
COMMENT
---
Manchester City's transfer plans are already in place but their results in the next two matches will not only have a major bearing on how Pep Guardiola's first campaign is ultimately judged, but how they move forward.
Beating both Arsenal and Manchester United in the space of five days would deliver an FA Cup final and, almost certainly, a top-four finish.
What Conte can learn from Mou & Allegri
Green shoots of progress are visible but the revolution expected this time last year is on hold, and City have a lot of work to do in the transfer market this summer if the Guardiola era is to really take hold.
Raheem Sterling, Leroy Sane and Gabriel Jesus have arrived in the two most recent summer windows and Guardiola says young talents are a priority, given his ageing squad, but there is also a need to bring in top-class players who have been there and done it.
That is why the battle-hardened Alexis Sanchez and Leonardo Bonucci are City's two priority targets.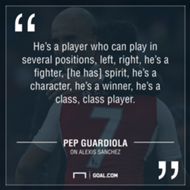 Guardiola has often talked about City's mentality and how it needs to change if they are to challenge for top honours. The Catalan says his team are "far away" from becoming Champions League contenders, insisting "for that you need experience, and hopefully we get that experience and it will help us for next season."
But City's mentality issue, Guardiola believes, has not just held them back in Europe. The Blues take on Arsenal in the FA Cup semi on Sunday, just three weeks after the two teams played out a 2-2 draw in the league.
Guardiola, as he did following City's Champions League elimination at Monaco, said his players "forgot how to play" - that they had not carried out his orders - and that that is what cost them victory.
"I don't want to see the team [play] again like they did against Arsenal in the first half," he said later.
Guardiola says he is too involved in City's remaining games this season to focus on City's transfer business, but he has met with Txiki Begiristain, the sporting director, about exactly what he needs for next season.
Alexis and Bonucci are the key targets, even if neither of their current clubs will let them go willingly.
Alexis is completely focused on winning but, unlike several of the world's best players, is more concerned with collective success than individual awards. He has had arguments with his Arsenal team-mates and put in some distracted performances of late, and while it is not an ideal manifestation of his core characteristics, it is all rooted in a desire to be the best. That is the type of attitude Guardiola is looking for.
Bonucci has emerged as arguably the best centre-back in world football and City believe he is the perfect man to bring stability and leadership, as well as quality on the ball, to the backline. City have not been put off by the fact he will turn 30 before next season begins or that he will cost big money.
The club are well aware that neither will be easy to acquire, but do believe they are achievable targets.
Arsenal are loathe to sell their star man to a Premier League rival and are hoping any Paris Saint-Germain offer will tempt him more than City, Chelsea or United. But, sources have told Goal, the Chilean is keen to move to City and the Gunners may ultimately have no choice but to sell to an English club, as it is understood PSG are currently the only overseas team with both the intention and means to sign him.
As for Bonucci, City may find it easier to tempt Juventus into a sale if the Italian club win the Champions League. After they were beaten in the 2015 final by Barcelona, senior players made a pact to stay together until they won the competition. There was consternation, therefore, that Paul Pogba left for Manchester United last summer, and it means success this time around would help City's cause - even if Bonucci is said to be keen on a move regardless.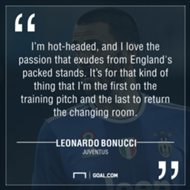 Those decisions, of course, will all be made after Guardiola's first season comes to a close. He will spend the next few weeks, and particularly the next few days, trying to work out how he can convince his current group of players to do what he wants them to do when it really matters.
Having been so scathing of their performance against Arsenal, he will likely impress upon his players that, come kick-off on Sunday, they should do the exact opposite of what they did last time.
City's big-game away record, since beating United in September, has been poor, and while they have performed better on home soil they have struggled to convert their dominance into victories.
Tom Davis is England's next star
An FA Cup semi-final against Arsenal - the only big side they have beaten at home but who they struggled against at the Emirates - and a Manchester derby at the Etihad will serve as accurate bellwethers of exactly where this team is. 
And while changes will be made no matter what happens, City's chances of landing their top targets could easily be affected by their results in the next week.
Whatever the directors at Arsenal and Juventus decide, City would be a much more attractive proposition with the FA Cup in their trophy cabinet and Champions League football to look forward to; tangible signs that the Guardiola era is heading in the right direction.
For that to happen, Guardiola needs to make the most of what he's got now. We will soon see what they're made of.