Manchester United
Why Martial must escape Mourinho and do 'another Pogba'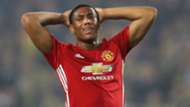 ---

COMMENT
---
Manchester United boss Jose Mourinho has been a specialist in 'alternative facts' for a lot longer than Donald Trump and Kellyanne Conway. The Portuguese marked his Old Trafford inauguration by claiming to have brought through 55 academy players since taking his first job as a senior coach in 2000, with Benfica.
Morata ideal replacement for Costa
That the figure was massaged was unsurprising (the real number was closer to 36). What was shocking, though, was that Mourinho had claimed to have launched the careers of players such as Arjen Robben, Raphael and Casemiro, all of whom had made their professional debuts elsewhere. Robben had even been capped 10 times by Netherlands by the time he joined Chelsea in 2004.
Of course, Mourinho has never been one to let the truth get in the way of a good story - and the yarn that he was trying to spin was that, contrary to all of the evidence, he has a good record with youngsters.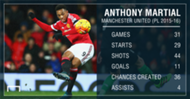 However, his only notable 'success' stories are Real Madrid academy products Alvaro Morata and Jese - and neither of those ever managed to retain the complete trust of the coach. As an exciting young forward, Anthony Martial can empathise, albeit with the added concerns that not only is he not a Mourinho debutant, he is not even a Mourinho signing.
A year after arriving from Monaco for £36 million, and despite scoring 17 times in all competitions last term, Martial is now struggling to get a game. United's top scorer in last season's Premier League (11) has been afforded just nine starts during the current campaign, netting just two goals.
Mourinho will block De Gea to Real
Worse still, his only appearance since the January 15 meeting with Liverpool came in the FA Cup, when he registered two assists in a 4-1 rout of West Ham. He spent the duration of United's last two league outings, against Hull and Leicester, sitting on the bench.
There are legitimate question marks over Martial's attitude and application. His image as a sulking teenager is not being helped by constant reports linking him with a move away from Manchester, which Mourinho has used to strengthen his argument for overlooking Martial.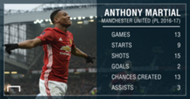 "Anthony has to listen to me and not listen to his agent," he stated last month. "Every day I read the newspaper: Martial goes to Sevilla, Martial goes on loan, Martial is not happy. Martial has to listen to me. He's a player with amazing conditions to be a top player."
However, whether he can be a top player under Mourinho is doubtful. The Portuguese has done nothing to suggest that he can help Martial - or is even interested in doing so.
Mourinho made his priorities clear at the start of the season when he allowed the No.9 jersey to be taken away from Martial and given to new arrival Zlatan Ibrahimovic. Martial was still reeling after what he himself described as a "disastrous" Euro 2016 campaign with France - and then he had to suffer the ignominy of having Mourinho-favourite Ibra take the shirt off his back.
Martial's embarrassing goal stat
It may seem trivial but such things matter to footballers, particularly a young one seeking reassurances after a confidence-sapping tournament with his country in which he saw just 45 minutes of action.
The previously high-flying attacker was brought crashing down to earth by Euro 2016, so it was almost inevitable that all of the enthusiasm and positivity surrounding his sensational first season at Old Trafford would be replaced by doubt and uncertainty after it was made abundantly clear to him that Ibrahimovic was ahead of him in the pecking order.
"He is no longer smiling all the time," Martial's agent, Philippe Lamboley, told RMC in November. "But he is very committed to United and his team-mates. What he has already achieved is incredible. And I can promise you that the best is yet to come."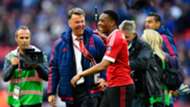 But perhaps not at United. Mourinho has already hinted that Martial needs to do more to adapt to his style of football, suggesting that the pacy Massy native was, conversely, more suited to Louis van Gaal's slower, more measured approach to the game.
"Anthony was probably more comfortable playing that way, at that intensity, at that rate of ball possession and ball circulation," the 54-year-old reasoned.
Is Messi more boring than Ronaldo?
It was a back-handed compliment and the subtext was clear: Martial no longer fits in at Old Trafford. Former Manchester United defender Mikael Silvestre would like his compatriot to ignore interest from the likes of PSG: "I hope he keeps patient, and won't do a Pogba, like he did and head to Juventus."
Yet the Bianconeri made Pogba the player he is today. In leaving Alex Ferguson for Antonio Conte, the midfielder swapped a coach who kept him at arm's length for one that immediately embraced him.
Martial is now in a similar position. When he needed an arm round the shoulder after the Euros, he was subjected to tough love. The fact of the matter is this: Mourinho is not the manager to make Martial great again.