Leicester City
Who is Vichai Srivaddhanaprabha? Leicester City owner feared dead in helicopter tragedy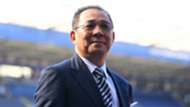 Vichai Srivaddhanaprabha is feared dead after his helicopter crashed on Saturday evening following Leicester City's game against West Ham.
The 60-year-old is believed to have been a passenger on board the aircraft, with the BBC reporting that five people were on board at the time of the incident.
Leicester City have confirmed that they are assisting Leicestershire police following the crash and are expected to provide a more detailed update on Sunday.
---
Who is Vichai Srivaddhanaprabha?
---
Srivaddhanaprabha is a Thai businessman who is the owner of Premier League football club Leicester City and the founder of the travel retail group King Power.
Born Vichai Raksriaksorn in Bangkok on April 4, 1958, he has become one of the richest businessmen in Thailand, with Forbes magazine ranking him the country's fifth-richest man in 2018 with a worth of $4.9 billion (£3.8m). He is the 388th richest billionaire in the world.
His name was changed from Raksriaksorn to Srivaddhanaprabha in 2012 after it was bestowed upon the family by former King of Thailand Bhumibol Adulyadej. The name means 'light of progressive glory'.
Srivaddhanaprabha is married to Aimon and they had four children together: Voramas, Apichet, Arunroong and Aiyawatt
A billionaire thanks to his exploits with King Power, he owns two football clubs: Premier League side Leicester City and Belgian outfit OH Leuven. 
---
When did Vichai buy Leicester City?
---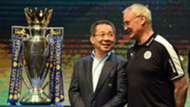 Srivaddhanaprabha and his son Aiyawatt purchased Leicester in 2010 for £39 million ($50m) when the club was plying its traded in the Championship, England's second tier.
He soon succeeded Milan Mandaric as the club's chairman in February 2011 and has been in that position since.
Aiyawatt was appointed the club's vice-chairman, while Srivaddhanaprabha's other son Apichet is an executive director.
During his time as chairman, the Foxes were promoted to the Premier League after winning the Championship in 2013-14 and they famously upset the odds by securing the Premier League title two seasons later in 2015-16.
Under Srivaddhanaprabha's leadership, Leicester played in the Champions League for the first time in 2016-17, reaching the quarter-final, where they were defeated by Atletico Madrid.
---
What is King Power?
---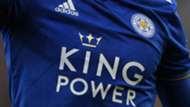 King Power is the flagship business venture of Srivaddhanaprabha, which he founded in Bangkok in 1989.
It has developed into the biggest duty-free retailer in Thailand and it will be familiar to fans of the Premier League who will have seen it on the Leicester jersey for the past few seasons.
The name King Power is also attached to Leicester's home stadium after the renaming from Walkers Stadium in 2011.