Transfers
Who is Exequiel Palacios? Argentina's 'womanising' wonderkid wanted by Real Madrid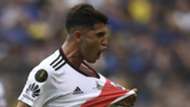 Having burst onto the scene as part of a swashbuckling River Plate side that is fighting for Copa Libertadores glory, Exequiel Palacios is not short of admirers.
Real Madrid appear set to sign the 20-year-old midfielder for a fee of a €25 million (£22.3m/$28.4m), Inter were also closely following one of the top prospects to come out of Argentina in recent years. But he is also getting attention rather closer to home, and not all of it wanted.
Palacios was the star of a minor celebrity scandal at the end of August, product of a romance with former TV weather girl and model Sol Perez. There was one issue with this budding relationship: the player's girlfriend, manicurist Karen Gramajo, whose existence was revealed to a stunned Perez live on television during one of Argentina's infinite gossip shows.
If that were not enough, a third squeeze, called Juliana emerged to claim that she was also involved with Palacios. But that domestic strife has had little effect on the youngster's form as he continues to go from strength to strength at the Monumental – nor has it had any visible impact on his energy levels.
A roving, dynamic central midfielder, Palacios represents a rare breed of player in Argentina, where those in the engine room tend to be divided into two broad categories: stoic anchormen whose job is to break up play and move the ball along with little fuss; and the more creative playmakers who contribute little in their own half or out of possession.
Palacios thrives while on the ball, driving through the heart of the pitch and showing intelligence beyond his years to move it on at the right moment. But he also works incessantly in the recovery of possession, while also popping up to score the odd goal at crucial moments.
It is the type of player that Lionel Messi's Albiceleste for one have been crying out for in recent years, a priceless commodity in modern football. For that reason his path into the national team has been accelerated, interim coach Lionel Scaloni handing him his international debut in September against Guatemala.
But his time in Argentine football could be running out, with Madrid in particular ready to announce him as a Merengue player following the Copa Libertadores final on November 24 if nothing goes awry in the final stages of negotiations with River.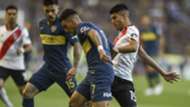 Publically at least, the Millonarios hope to keep him at the club, reacting angrily to the news he had been approached. "Up to now we thought it was all false, but no," president Rodolfo D'Onofrio fired to Marca .
"We have confirmed it through his agent and we at River are surprised, if it is all true, that a respected institution like Real Madrid has negotiated directly with the player, without respecting a club like River and behind its back.
"I wasn't expecting it, this does not fit with the historical ties we have with Madrid that date back from the age of Alfredo Di Stefano up to the present day."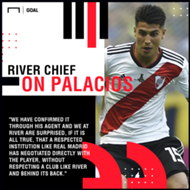 The prospect of Palacios joining up with newly confirmed Madrid boss Santiago Solari – who himself made the step up from River to Real, by way of rivals Atletico – is a tantalising one, and one which can only be a positive step not just for the Blancos' efforts to rejuvenate their flagging squad, but also Argentina's endeavours to bring in the next generation of talent, with or without Messi as their standard-bearer.
In the meantime there is only one thing on the club – and Palacios' – mind. The Copa Libertadores final first leg against hated rivals Boca Juniors ended in a 2-2 draw at the Bombonera, a game in which Palacios uncharacteristically failed to make his usual impact leading a midfield left rather stretched by River's decision to line up with five defenders and play a more direct counter-attacking game.
Saturday sees the two giants meet again in the second leg of the showpiece, with no more than a place in the Club World Cup and a date with none other than Madrid in Abu Dhabi on the line. If the Millonarios are to prevail Palacios' attacking dynamism and quality will be key – and you can be sure that with so much on the line he will not be distracted by any more off-field scandals.
The Copa Libertadores final second leg will be streamed LIVE right here on Goal [UK ONLY] from 8:00pm GMT.