Transfers
Which club will Rabiot join on a Bosman transfer? Liverpool, Barcelona, Juventus and possible destinations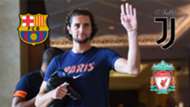 The summer transfer window of 2018 may only just have closed for the majority of clubs around Europe, yet already one of the major stories of 2019 is brewing in Paris. Adrien Rabiot is set to be one of the hot talking points for the next year, with the central midfielder's contract up with Paris Saint-Germain next summer.
Many of Europe's biggest clubs have been linked with the 23-year-old, who has grown from academy graduate to first-team regular at Parc des Princes – no mean feat given the lavish spending of France's dominant club. 
It takes a certain personality type to grow in that manner, and while Rabiot's self-confidence, backed by his notoriously pushy mother, Veronique, has helped him make his name in the French capital, it could also be the factor that leads him away.
His stubborn attitude has led to an impasse in contract negotiations with PSG and, as such, a great degree of uncertainty as to where exactly his future lies. 
Rabiot's personality meant that he missed the World Cup as Didier Deschamps did not believe he was a good figure to have around a squad that thrived on their togetherness, but that has been a factor in allowing him to enjoy a strong start to the season.
While players such as Neymar and Kylian Mbappe, who went deep into Russia 2018, have had their playing time reduced in the opening weeks of the season, Rabiot has come into the campaign fresh and has been present on the park for every competitive minute that PSG have played.
And he has shown the stature that made him so difficult to be overlooked by Deschamps, particularly in the wake of Thiago Motta's retirement. Typically a more attacking player than the former Italy international, he has operated as No.6 in the midfield, although he yearns to be given more freedom once again.
---
PSG STAY STILL POSSIBLE
---
There is, however, no guarantee that he will leave Paris. Goal understands that neither the player nor Veronique has their heart set on a transfer, although if the team flops in the Champions League, that could change his outlook.
Meanwhile, head coach Thomas Tuchel has gone public on how much he appreciates the midfielder.
"I really like Adrien, really. I appreciate him," the former Dortmund boss told RMC .
"There was a difficult situation after the World Cup that he missed but Adrien has showed incredible willingness from the first day of training. He has never missed a training session, not a single thing – we can really trust him and count on him.
"Adrien is good, physically, and he is essential for us. 
"Adrien comes from the youth academy and it is very important to have players like him here, to encourage them, support them and place them at the heart of the project.
"I love working with Adrien and I have no influence over the rest."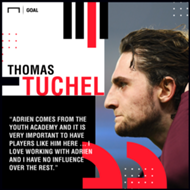 Conversely, though, the player has also rejected two contract offers from the club, turning the latest down in mid-August, when he rebuffed a €7.2 million-per-year offer from the Parc des Princes side. This was a slap in the face for PSG as they bowed to his request of a three-year deal – a shorter contract than habitually offered by the powerhouse club. For his part, Rabiot does not want to miss out on a potential switch away in the manner that both Marco Verratti and Marquinhos have in recent times.
PSG have been in this difficult situation with the player before. In 2015, he appeared to be heading out of the club on the advice of his mother, who suggested her teenage son deserved a more regular place in an already world-class midfield. He was pushed to the very fringes of the squad before an agreement was reached and he returned.
"Adrien loves PSG, he's attached to the club," the player's mother protested. "He wants to make a career there, but it's not possible. He'd need 35 full games a season to continue his progress and that won't happen. Since he can't make his way, it's better to leave."
At that time, Veronique was accused of holding the club to ransom, yet under duress, it was the player and his mother who blinked. That could be seen as a precedent. 
---
OFFERS FROM ABROAD
---
But what are his other options? Liverpool and Manchester City, where he spent a matter of months as a youth player, have both been closely associated with a move for the player, yet it is Goal's understanding that there is little substance to the reports linking him with a move to either Anfield or the Etihad.
England, however, is not the only location that Rabiot has been linked with a Bosman move to.
Barcelona have been one of the sides to the forefront of transfer rumours for much of the summer, notably hitting the headlines in August in the aftermath of Rabiot's rejection of PSG's terms. Reports state that the Camp Nou side were willing to offer him €10m per season – more 30% higher than PSG's bid.
The Catalan giants, whose interest in the player has been confirmed to Goal, are Veronique's preferred destination for her son, and the location that she is doing her best to push him towards. 
However, they view Rabiot as a backup option to Frenkie de Jong of Ajax, who remains their top priority, while they would also seek to sign Manchester United's Paul Pogba before moving for the Frenchman.
Juventus are the other European giant in the hunt. After splashing out on Cristiano Ronaldo in the summer, a free transfer for such a talented and relatively young player is attractive for a club who have signed many stars on a Bosman in recent years. He would make sense as a replacement for Sami Khedira, who may only recently have signed a new deal with the club, but who will be 32 by the end of the campaign.
Certainly, it is a situation that the Turin giants are monitoring, but at the moment, he is not regarded as a priority.
Given the state of play, it is difficult to discount anything from Rabiot's future, but equally it is impossible to say that there is a front runner in the early stages of this race. There are many months for this story left to run.