Where are your trophies?! Arsenal still a bigger club than Spurs
There have been 194 meetings between Arsenal and Tottenham since 1896 and there is a feeling that Saturday's North London derby could be the match where the balance of power will officially switch – if it hasn't already.
The Gunners are currently lagging behind their arch-rivals in almost every department on and off the pitch, and last season's fifth-placed finish was the final straw for many supporters, who had already seen the warning signs when Arsenal only narrowly pipped Spurs to the runners-up spot the season underdogs Leicester shocked everyone by winning the Premier league.
Fast forward to now and Tottenham have leapfrogged Arsenal in almost every regard.
They are playing Champions League football, while Arsenal are in the Europa League. In Harry Kane, they boast the best striker in the league and arguably Europe, while Arsene Wenger has dallied over playing his record signing, Alexandre Lacazette, in big games.
Off the pitch, Spurs have managed to tie two of their best players in Hugo Lloris and Kane down to long-term contracts – with Dele Alli surely set to follow if the campaign pans out how Mauricio Pochettino plans.
Arsenal, meanwhile, face the prospect of losing their two most illustrious and technically gifted players on free transfers next summer, with Alexis Sanchez and Mesut Ozil yet to commit to the club and able to sign pre-contract agreements in January.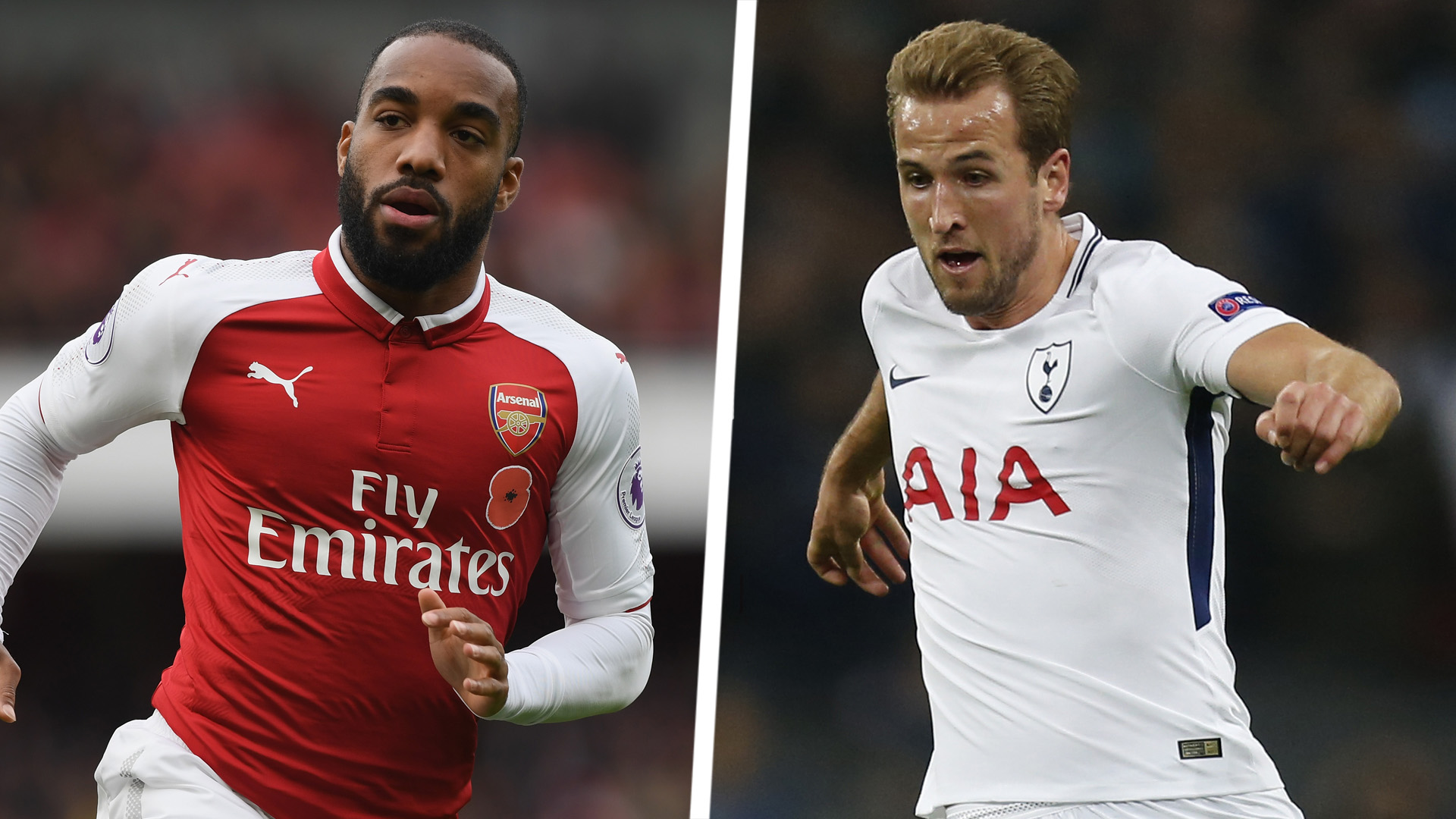 Despite winning the FA Cup last season, there were calls for Wenger to quit by swathes of Arsenal fans after the club finished 11 points adrift of their rivals.
However, former Gunners goalkeeper David Seaman believes that while Saturday's game represents a difficult challenge for his old side, talk of a power shift is completely unfounded.
"I think they [the players] do [know what it means to play in a derby match]; the fans make it clear," said Seaman.
"When we were playing in these games, we were thinking about the fans more than anything else because they've got to go to work the next day and have the mickey taken out of them. With Tottenham finishing above us last season, Arsenal need to put it right and give the fans something to take the mickey out of their fans for.
"The form has shifted but not the power. The power comes through winning trophies and Tottenham haven't done that. They've got every chance of doing that if they can keep their players and the league doesn't lie.
"We finished above them two seasons ago but that was quite a fluke – last year certainly wasn't. Even with that, our A game still beats Tottenham."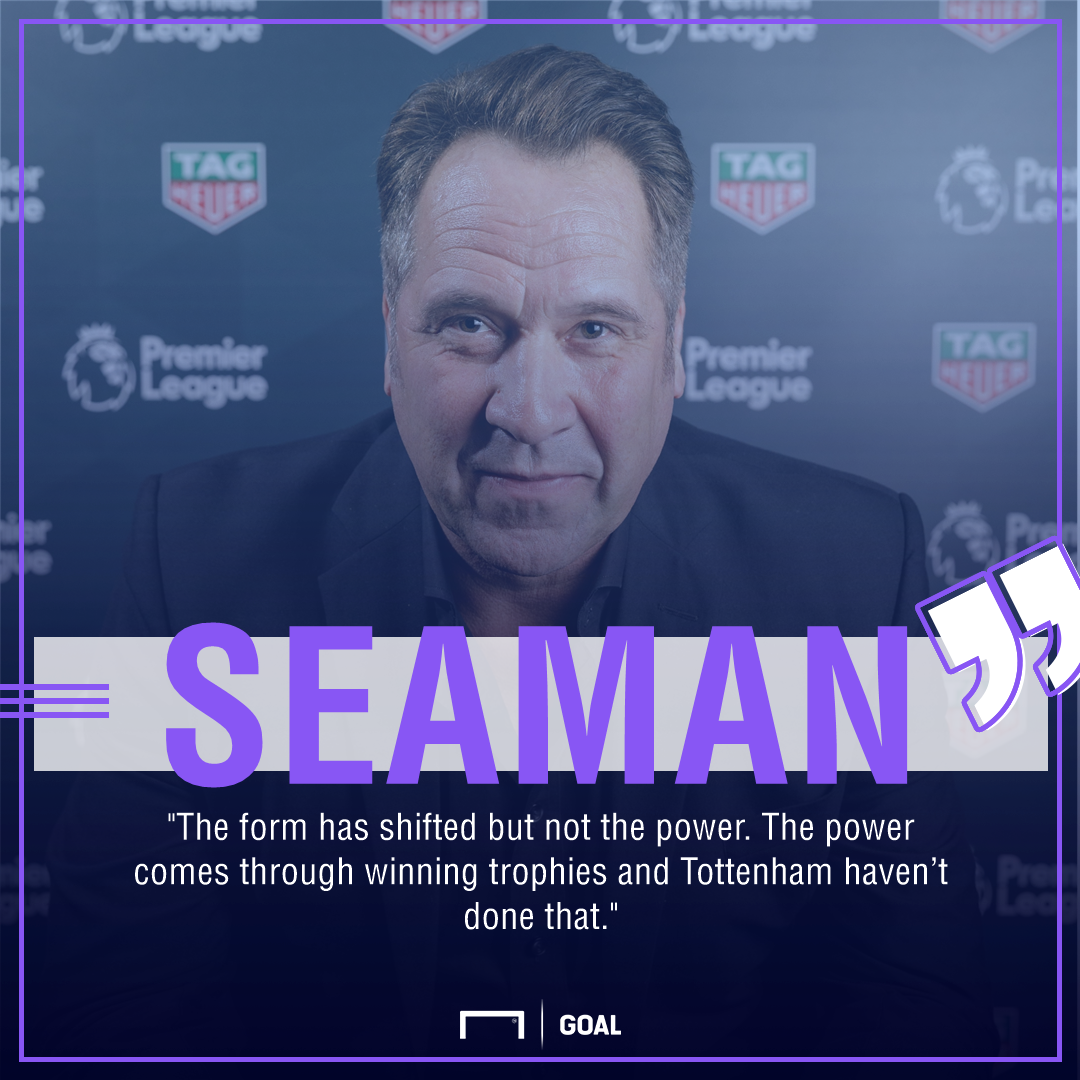 Arsenal are certainly trying to make progress behind the scenes. Chief executive Ivan Gazidis is gradually laying the framework for life after Wenger by bringing in fresh summer appointments, including highly-regarded fitness coach Darren Burgess, contracts specialist Huss Fahmy and a new chief scout, which is expected to spell the end of Steve Rowley's two-decade tenure at the club.
It is understood that Gazidis is keen on bringing in new blood to prepare for Wenger's eventual departure, which explains why Rowley, alongside chief transfer negotiator Dick Law, are both on their way out.
The old adage that form goes out the window for north London derbies yet the talk around Saturday's game has been focused around Tottenham's superiority over Wenger's men in almost every department. Pochettino's maestros are lacking one significant cherry on their cake, which is the rather crucial element to any successful side – trophies.
Arsenal's 13 league titles and 13 FA Cups is a proud achievement which will take Spurs a long time to better. While it makes no sense to live in the past and dwell on previous successes, those who claim Tottenham have become a bigger club than Arsenal are quite simply deluded.
Wenger makes a point of talking about how he managed to keep the Gunners in the Champions League while having to pay the stadium debt off – and that in itself will be Pochettino's biggest test when Spurs head to their new stadium in 2018.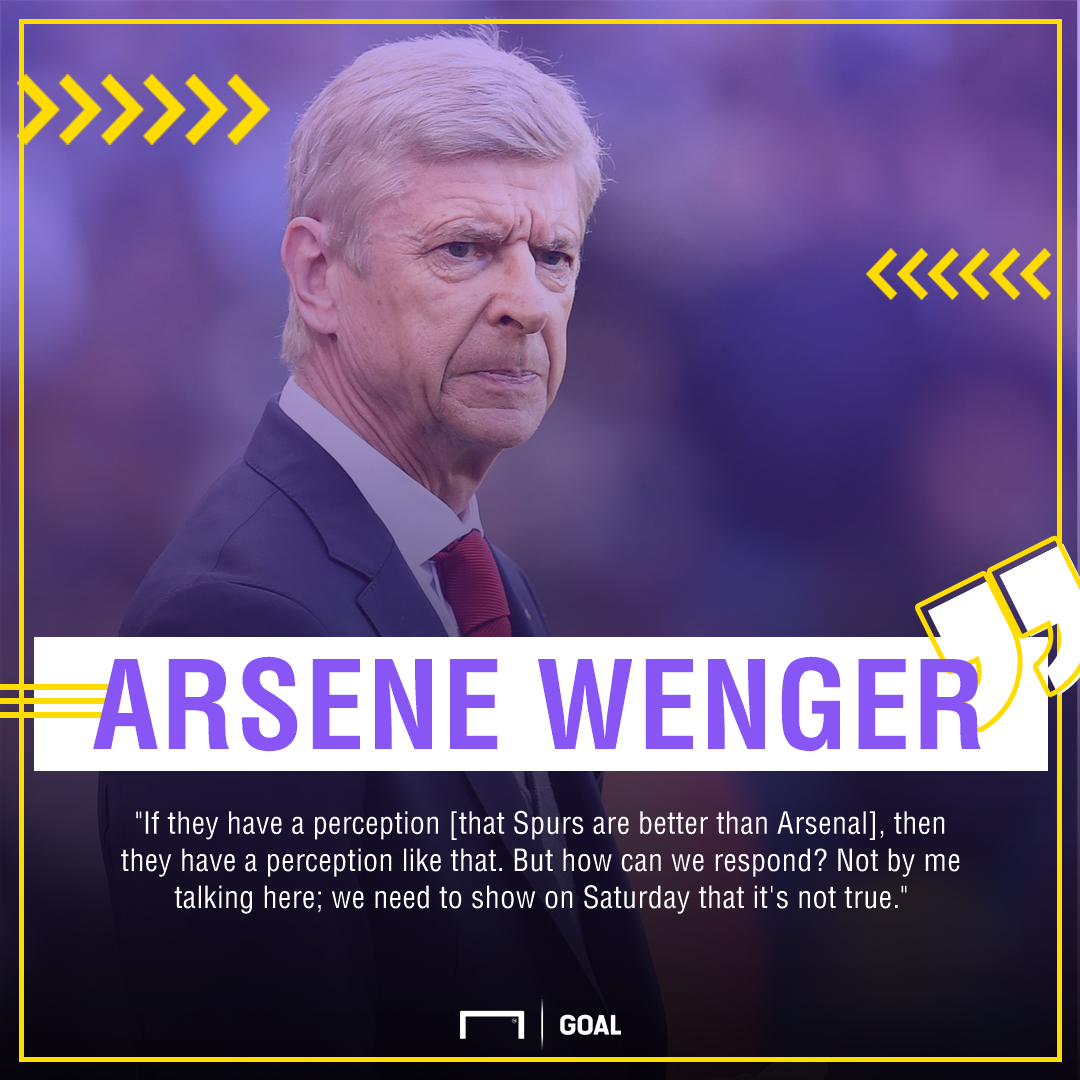 "When we had less resources financially I knew that we needed the money to pay the stadium back, so I was more focused on that than on Tottenham," said Wenger in his pre-match press conference.
"I was never too focused on Tottenham. Today, people always take one situation and it is permanent. The judgement is definite, permanent and forever.
"It is down to us to change the opinions of people with our performances, I cannot say much more. If they have a perception like that, they have a perception like that but how can you respond? Not by me talking here; we need to show on Saturday that it's not true."
Wenger is right when he alludes to actions speaking louder than words. Saturday's game could be the one that ignites Arsenal's season and provides the catalyst for future success.
While they will remain the bigger club for years to come, there will be further chatter of a power shift on Saturday afternoon if Spurs can end the Gunners' 10-match winning streak at Emirates Stadium – it's up to Wenger's side to prove the doubters wrong.