Hachim Mastour
From Milan to a free agent - what happened to YouTube sensation Hachim Mastour?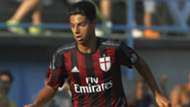 ---
COMMENT
---
With Real Madrid, Barcelona, Inter, Manchester City and AC Milan all showing a great interest in signing him by the age of 14, Hachim Mastour seemed destined for greatness.
Hailed as one of the most promising players in the world, the Italian-born Moroccan's agility, wonderful control and impressive tricks saw him become an internet sensation and the hype grew rapidly for a player the Rossoneri paid €500,000 to sign in 2012.
Lacazette can fix Arsenal's goal problem
Within two years, he was included in the senior team, with the likes of Filippo Inzaghi, Clarence Seedorf and Adriano Galliani all talking him up. Three years later, though, things look very different, with Mastour having been released by Milan after failing to make a single appearance for the senior squad.
Finding a new club at the highest level will not be easy either.
In 2015, Malaga took him on a two-year deal with an option to buy but the Spanish side called it quits after one season in which he had played just five minutes of senior football. Thanks to agent Mino Raiola's connections, he secured a loan move to PEC Zwolle last summer but his spell in the Eredivisie proved equally underwhelming.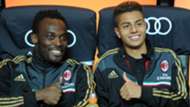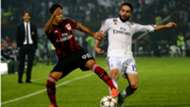 "He can do anything with the ball; that was clear two years ago on YouTube," excited coach Ron Jans said upon his arrival. "The biggest danger is the huge expectation. He's so young. We want to bring him into the shelter but I think we can get good out of him."
They had no such luck. Mastour was afforded just 150 minutes of game time across five appearances in the Eredivisie, before Zwolle effectively gave up on him in January.
"He can do wonderful things with a ball but he must start adding more depth to his game," Jans said at one point, and that was indeed the problem: Mastour remains entirely one-dimensional.
The City unveiling Pep never wanted
His caressing of the ball and quickness of feet are a delight. He dances his way out of trouble easily but adds little to attacks. He only wants to play in tight spaces, often moving towards a crowd of opponents to dazzle a bit before flicking it to a team-mate and instigating a quick move, but most defences are sufficiently well stocked to end it.
When he has time in possession, he seems too pensive and often goes backwards or sideways, while he doesn't move much off the ball. Defensively, he offers next-to-no cover and is a poor tackler.
His mastery of the ball promises a lot but most of what he does is unnecessary and there is no end product to his game. He must become more rounded if he is to fulfil even some of the expectation that has surrounded him for so long.
Many have already dismissed him as an unfulfilled promise in the shape of Freddy Adu, which seems harsh considering he is just 19, but it is clear he has made little progress since flourishing for Milan's Under-16s, so the warning signs have been there for some time.
His wonderful goals and neat tricks from the No.10 role in the youth team earned him a shot in Inzaghi's Primavera side. After two substitute appearances totalling 20 minutes for the Under-19s, he was in the senior squad for the final game of 2013-14.
Special permission was needed from the league to include him but coach Clarence Seedorf kept him on the bench. Still, he was 15 and sharing a dressing room with Kaka, Mario Balotelli and Stephan El Shaarawy.
He was on the bench again in the first game of the next season, with Inzaghi now in charge, but was soon back in the Primavera and it is there that the hype seemed to die.
As he continues to struggle, it seems the step up from youth level has hit him hard and he is yet to adapt to the heavier demands and convince any coach to give him a run in the starting XI. Even Morocco, who made him their youngest senior international two days before his 17th birthday, are yet to give him another cap.
RUMOURS: Conte wants £100m Lukaku
The pressure on him has been excessive and completely unfair for years. Mastour has never been able to develop at his own pace and has been moved from team to team every few months over the last five years. There is no consistency to his surroundings and he rarely gets to work with one coach for more than a few months.
There must be patience as he develops but the superficiality of his game is holding him back. The Eredivisie is a league renowned for allowing technically gifted young players to shine but after arriving amid excitement, Mastour made no impact.
Having now been shown the door at Milan, he needs to find a new home soon. Otherwise, this once brightly shining star could fizzle out completely.