West Ham United
West Ham vow to investigate racism allegations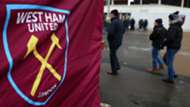 West Ham have vowed to investigate alleged racist comments made by their director of transfers, Tony Henry.
A report from the Daily Mail claims that Henry admitted the club do not sign African players as "they cause mayhem".
The club have issued a swift response to the story, with a statement reading: "West Ham United is an inclusive, respectful and diverse football club. Equality is at the heart of our ethos and values.
"We were recently given the opportunity to demonstrate the extent of our firm commitment to these values, which are embedded throughout the club, with a view to achieving the intermediate level of the Premier League's equality mark, recognised and supported by Kick it Out.
"We have worked extremely hard over the last 18 months across all areas of the Club and we are confident in our achievements. All West Ham United employees are required to go on equality, diversity and unconscious-bias training as part of our new mandatory training and workforce plan.
"We take any allegations of discrimination extremely seriously and are now in the process of ascertaining the full facts behind this accusation."
The Daily Mail alleges that they have seen an email sent by Henry, which was in response to a question regarding a player of Cameroonian descent.
He is reported to have written: "We don't want any more Africans and he's not good enough. I sent Thomas to watch him and the other lad last week and he said no. If Palace take them good luck."
During an interview, Henry was asked if he had told agents and intermediaries that the club did not wish to sign players of African descent, and he replied: "Yeah. Because we had three and we felt we didn't particularly want any more African players... It's nothing racist at all. It's just sometimes they can have a bad attitude.
"We had problems with Sakho, with Diafra Sakho. We find that when they are not in the team they cause mayhem. It's nothing against the African race at all.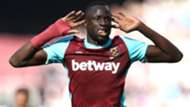 "I mean, look, there are top African players. There's not a problem with them. It's just sometimes they cause a lot of problems when they are not playing, as we had with Diafra. He's left, so great. It's nothing personal at all."
Further pressed on his views, and whether they were discriminatory, he added: "No. I don't know what you are trying to get at here. All I said was, look, we have a great lad in (Cheikhou) Kouyate, he's brilliant, a great player for us, he's a good lad.
"But the likes of Sakho have caused mayhem. When he's not playing … he always wants a new deal. That's all it was. It was nothing discriminatory at all.
"I could say we get offered Russian players. I just find with Russian players that they don't settle in England.
"It's like Italians. How many Italians come and settle in England? As a club we are not discriminatory at all."