Transfers
Wenger 'positive' over new deals for midfield duo Wilshere and Ramsey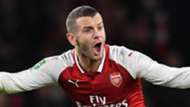 Arsene Wenger has turned his attention to getting new contracts for Jack Wilshere and Aaron Ramsey after locking Mesut Ozil into a new long-term contract earlier this month.  
The Germany international's deal was set to expire at the end of the season and there had been interest from Manchester United and PSG, as well as big money offers from clubs in the Chinese Super League.
But the former Real Madrid star decided to commit his future to the Gunners, and Wenger now seems hopeful that he can tie down two more of his stars in the near future. 
Wenger made it clear last month that contract talks with Wilshere were ongoing, and now says he will "do the maximum" in his power to make sure the England man is happy.
"I'm positive, because I want him to stay. I do the maximum I can to make him happy," Wenger told reporters. "We try to make progress and I told you that many times for Ozil. You never believed me."
Wilshere's current deal expires this summer, putting the pressure on the Gunners to get a deal done. 
Ramsey's case is less time sensitive, with his current deal running through 2019, but the Arsenal boss is still hoping they can come to terms soon. 
"He is a little bit different, with less time constraints than with Jack," Wenger added on Ramsey.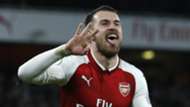 "With Jack it is now. With Aaron, do we lose two weeks or three weeks, it doesn't matter much. I want him to stay as well. Especially if he starts to score hat tricks."
Ramsey turned in a star showing with three goals against Everton in a 5-1 win last week, and Wenger is clearly hoping for more of the same in this weekend's north London derby clash with Tottenham.