Neymar
'Corrupt' Neymar not an example for children - DIS founder Sonda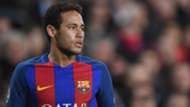 DIS founder Delcir Sonda has claimed that Barcelona attacker Neymar should not be considered a role model and has said that anyone wearing his shirt was "supporting corruption".
Neymar leads SA qualifying Best XI
When he played in Brazil with Santos, Neymar was the prized asset of DIS' stable. The company owned 40 per cent of his rights, bought for around €1.5 million when he was just 17, but they claim that the player and his family were behind a scheme that saw Santos reclaim a greater percentage of the transfer fee that Barcelona paid for him.
This has left Sonda furious and he is currently in legal proceedings against the Brazil star.
"I was betrayed by Neymar, by his father and his mother. There was a fraud orchestrated by Neymar, his parents and Barcelona through fake contracts," he said.
"Neymar has lied and continues to lie, right up to today. Neymar isn't an example for our children. We're in the middle of immense corruption and we need to set an example for our children. We can't tolerate corruption."
The allegations will be heard by the Spanish High Court, which will see several high-profile figures from the Catalan giants go into the dock, including Josep Maria Bartomeu, the current president of the club, and Sandro Rosell, who preceded him in the role. 
​