Chelsea
'We paved the way for the Abramovich era' - Chelsea's 1998 legends reunite to face Inter Forever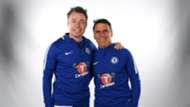 Chelsea are launching their own Legends team to match the likes of Manchester United, Real Madrid and Barcelona in putting on showcase games after the season has finished. 
The first match will be against Inter Forever at Stamford Bridge on Friday May 18 and will see players from the triple trophy-winning team of 1998 come together. 
Gianfranco Zola, Dennis Wise, Tore-Andre Flo, Graeme Le Saux and player-manager Gianluca Vialli will face the likes of Javier Zanetti, Youri Djorkaeff and Francesco Toldo - with further names to be announced.
The match will celebrate the 20th anniversary of winning the League Cup, Cup Winners' Cup and Super Cup in the same year, which Le Saux thinks helped paved the way for the club to be taken over by Roman Abramovich.
"Definitely. That team was a new era," Le Saux said at the launch of the Chelsea Legends match. "When I was at the club from '87 to '93, all the talk was about the team from the 1970s that won the FA Cup and Cup Winners' Cup.
"They were the successful Chelsea team of those couple of decades. The first season after I joined we got relegated - I had nothing to do with that! - and coming to the club after the FA Cup win in '97, that whole era through to 2003 when I left, Gianfranco left and Roman bought the club, that was a pivotal period in the club's history.
"The last game I played for Chelsea in 2003 against Liverpool at Stamford Bridge was the end of an era - it was Gianfranco's last game, Dennis and Gus [Poyet] had already gone. It was that year that Roman bought the club.
"I've never asked him but it would be interesting to find out, whether he'd say or not I don't know, if that had any bearing on his decision, given that we pipped Liverpool to qualify for the Champions League."
Chelsea had only won one top-flight league title ahead of Abramovich's takeover of the club in 2003 but have since won five more as the club have been transformed into one of world football's super-powers. 
The match against Inter celebrates one of the last successful achievements before the big takeover and Le Saux, who is bringing together the legends group, spoke of the pride he had playing with that group of players.  
"It's 20 years since we won those three trophies that we're celebrating. It's a group that I've got such affection for. In all my time in football, we had such close friendships both on and off the pitch, fantastic characters and personalities - I could tell you stories all day long about some of the laughs and moments we had as a group. It was a very strong dressing room individually but also together.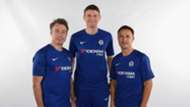 "There were so many nationalities but when we were all together we made sure that we all spoke English. We had all the wind-ups that you have at football clubs, where new players would come in and have to sing a song at lunch in the canteen in front of everyone and get hammered.
"That was a proper initiation for players. And we played wonderful football. I look at that team and we had our flaws, of course we did. We didn't manage to win the league, but we were a big game team. I always talk about the support structure of the club back then.
"We didn't have good training facilities, and I picked up a couple of injuries that I put down to that. All of that is important. It's all the margins, and turning up at Harlington on a wet winter's day when you've just lost a game could be psychologically quite tough.
"That sounds like an excuse, but we definitely had the talent and the quality in the team to win the league. It was just the consistency - there were some games we didn't convert. But we had fun playing. It was such a positive style of football that we played and a joy to be part of.
"Some of the goals we scored with link-up play, team play as well as individual brilliance - we scored a variety of goals. I've got very fond memories, so I'm looking forward to at least sharing all of those memories and hopefully some of those experiences on the pitch with the fans and the players."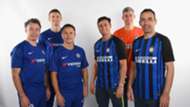 Meanwhile, Chelsea have gone on a bad run of late in the Premier League, losing their last two games by three-goal margins. They have dropped out of the top four and likely face a battle with Tottenham, Arsenal and Liverpool to get into the Champions League. 
Le Saux doesn't think that Chelsea lack leaders as others have suggested and he thinks that the trend in modern football is for quiet leaders who don't necessarily bark orders to their team-mates. 
"I think football's very different now. Players are a bit more individual now - I'm not talking about Chelsea, but in general," he added. "I think they're quieter, they're not as vocal. They don't seem to get on and motivate each other in quite the same way, so those obvious leadership skills don't seem quite so apparent.
"It doesn't mean they're not there, you just don't see it in quite the same way. All my career, wherever I've been, there have always been players that were very vocal, good leaders, people holding each other to a very high standard.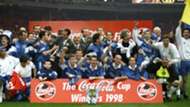 "That's certainly not a criticism of current players. Technically and fitness-wise, the standard in general has gone up. The less-good players are better now than the less-good players of my day. You look at someone like N'Golo Kante.
"He's not someone who goes around barking orders but he leads in the way that he plays. There are lots of those sorts of players. It's a slightly different psychology, this younger generation compared to ours.
"If I didn't put a cross on Jimmy Floyd Hasselbaink's head he would absolutely tear into me, and I won't even get onto Alan Shearer. I'd love to have been part of this team. I love playing wing-back. I played it for England in '98 and it was a role that suited me.
"I always liked to get forward and created a lot of assists over the years, so wing-back for me would have been brilliant. What I admire about this team and other teams at the top of the league is that ability to give someone the ball under pressure, and then to handle it.
"We had that in our team with Roberto Di Matteo and Dennis in midfield - you could give them the ball and they would be comfortable. Gianfranco could take the ball with three players around him and still wriggle his way out of trouble or make the right pass.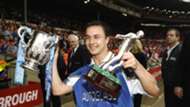 "The range of passing of Frank Leboeuf was like David Luiz, so it's all shades of the same colour in that sense. I'm sure if you spoke to these players and showed them some of the games we played in, they'd be looking at it thinking 'What a good team you were'.
"Just going out there [for pictures] with the Inter Milan players, Javier Zanetti, Youri Djorkaeff, a World Cup winner and European Championship winner with France, and Francesco Toldo, a fantastic goalkeeper. Those are players that command the highest status in the game."
Tickets for the match are available from just £20 for adults and £10 for concessions on Chelsea's official website, and are on sale to season ticket holders now, with access for members to follow on Wednesday before the game goes on general sale this Friday.