Premier League
VIDEO: Mourinho answers reporter's phone!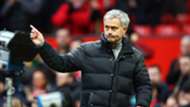 Keep it on silent!
Zlatan tells Pogba: Sit on the floor
Those are sage words for any journalist taking their phone into a major press conference, but they were not heeded by one unlucky reporter on Friday.
As Jose Mourinho held court ahead of Manchester United's huge game against Liverpool on Sunday, he was interrupted by an impromptu phone call, which he proceeded to answer!
"It's from TalkSport," Mourinho declared, before naming and shaming the culprit as an unsuspecting woman named "Abbey". 
Put it on silent next time, mate! pic.twitter.com/RreuxH1vDJ

— Manchester United (@ManUtd) January 13, 2017
Handing the phone to an embarrassed journalist in the front row, he ticked his caller off, before hanging up.
Those four words are worth repeating: Keep it on silent!