Arsenal
Vieira-like Torreira sets the standard at Arsenal - Keown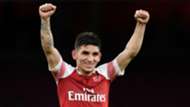 Lucas Torreira has the kind of "drive and determination" not seen in an Arsenal shirt since the days of Patrick Vieira, according to Martin Keown.
The midfielder capped off a fine afternoon for his side with his first goal for the club as they beat Tottenham 4-2 on Sunday.
And Keown was impressed by the 22-year-old's display, comparing him to some Gunners icons.
"It was the best all-round midfield display I have seen in an Arsenal shirt since Patrick Vieira and Gilberto Silva used to run the show," ex-Arsenal and England defender Keown wrote in The Daily Mail.
"Torreira and Vieira could not be more different in terms of size and stature but their drive and determination is exactly the same.
"From the first whistle the Uruguayan controlled the midfield. He was utterly fearless, demanding the ball at all times, always eager to snap into tackles and snuff out danger.
"His tireless running gave Arsenal an extra body all over the pitch. You got the sense that if he could, he would happily do everyone else's job!
He added: "Going forwards, Torreira also excelled. He reads the game exceptionally and when he gets on the ball, he uses it intelligently to feed the quality at the top of the team. His emphatic goal proves he is a mean finisher, too."
The win sees Arsenal pull level with Spurs on points and keeps them within eight of Premier League leaders Manchester City.
In Torreira, Unai Emery has the type of midfielder they need to maintain their push for titles.
"This victory feels like a watershed moment for Unai Emery. From day one, his sole aim has been to get these Arsenal players back to boiling point," Keown wrote.
"He recognises that to win titles, you need to squeeze every drop of tenacity and passion from the squad.
"Those are the qualities that every successful Arsenal team has possessed. In Torreira, Emery has a little dynamo on the pitch who sets the standard."