Premier League
'Just announce the ******* signing!' - Southampton spoof overdone transfer videos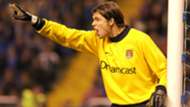 Some clubs are going a bit overboard on social media with their transfer announcements these days. Southampton have noticed. 
Valencia joins Tigres from West Ham
The club posted "another unnecessarily elaborate football club signing video" on their Twitter account on Thursday, complete with dramatic music, boats, helicopters and a SWAT team.
Are we doing this right?  #saintsfc pic.twitter.com/TaByabGqci

— Southampton FC (@SouthamptonFC) July 13, 2017
"Just announce the ******* signing", say "most football fans" during the brilliant spoof. And finally, the Saints did just that. 
At the end, the club confirmed back-up goalkeeper Stuart Taylor has inked a one-year extension, the kind of underwhelming signing that such an elaborate build-up could only have been hinting at. 
Well done Southampton. We can only wonder what kind of production we'll see when the Saints announce a club-record signing!