UEFA Champions League
VIDEO: What it was like for Messi leaving the Camp Nou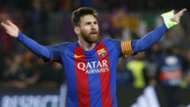 Lionel Messi's night was already memorable before he left the stadium. 
The Barcelona star contributed a goal to his side's historic 6-1 victory over PSG, advancing 6-5 on aggregate in the last moments thanks to Sergi Roberto's winner. And after a memorable night at the Camp Nou, the Barca supporters were eager to show their appreciation for their superstar.
Messi's car was surrounded by fans and blocked from exiting as they chanted his name over and over again.
One can only imagine the reception Neymar, who delivered two goals and the decisive pass to Roberto for the winner, might have received on his exit from the stadium.