Powerade
VIDEO: The evolution of ball striking with Mario Gotze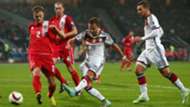 Football has evolved.
And so too, of course, have the things we use to play the game.
Could the world's top players perform to the same level without the help of modern technology?
What if they didn't have balls with a thermally-bonded cover and seamless surface for pinpoint accuracy and low water absorption?
Germany international and World Cup-winner Mario Gotze put the theory to the test when he was handed an old-fashioned leather ball from the 1954 World Cup.
And it's fair to say the Dortmund star found it much tougher going as he attempted to adjust to the inferior product.
Watch the video above to see how Powerade can help players deal with the demands of modern football.