Videos
VIDEO: Ortigoza's cheeky Panenka for San Lorenzo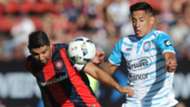 Everyone loves a Panenka – when it works, at least.
San Lorenzo's Nestor Ortigoza successfully converted one at the weekend in his side's fixture against Rosario, leaving goalkeeper Diego Rodriguez red faced as he dived away to his left.
The midfielder was coolness personified as he strolled up to take the kick and was wheeling away to celebrate before his effort had even hit the back of the net.
To cap off a fine evening, San Lorenzo ran out 2-1 winners.
Check the goal out above!