Videos
VIDEO: Huge brawl erupts as team celebrate trophy win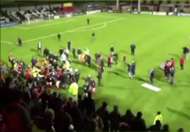 The Junior Shield cup final ended in chaos on Wednesday night as a riot broke out on the field while Suffolk celebrated their win.
After beating Woodvale 3-1 to lift the trophy in Northern Ireland, a spectator ran onto the pitch and attacked a member of the losing team.
A huge brawl started immediately as the pitch invader was hounded by Woodvale players and Suffolk players and coaches got involved.
Many punches were exchanged throughout, but the most peculiar moment came moments before the madness started, when a woman filming the celebrating team had her phone snatched away by the losing manager, who then shoved her.
It was revealed on Thursday that local police would be investigating the violence in the aftermath of the Junior Shields final in conjunction with the Northern Irish region's FA.
"We have been assisting the PSNI as of last night [Wednesday] and will also start our own internal investigation," County Antrim FA secretary Bernard Thompson told News Letter.
"We are bound by a procedure under the IFA Disciplinary Code and will follow that process. "Our remit covers misconduct by officials, players and spectators so now it is about gathering evidence to review.
"We will continue to work with the police regarding any potential criminal charges."