Manchester United
'Unprofessional' Man Utd players ignored my emails - Van Gaal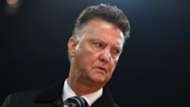 Louis van Gaal has hit out at 'unprofessional' Manchester United players, stating that some of the individuals he managed at the club refused to read his emails.
Van Gaal, who spent two seasons at the helm of the Old Trafford side, was not well received by Red Devils fans, who felt the style of football he was producing was not representative of how the club should play.
The club's hierarchy clearly felt the same way, with the Dutchman having been replaced by Jose Mourinho in 2016, a mere two days after the veteran boss had led United to their first FA Cup title in 12 years.
But Van Gaal has revealed that other factors may have been at play during his tenure in England, stating in an interview with German publication Bild that players would often ignore emails that were designed to help track and improve their progress.
"I developed a digital tracker with my IT man," the 66-year-old said, "Each player was able to log in.
"So I gave everyone the opportunity to prepare for conversations with me at home and to have a dialogue at eye level.
"That's true [that players didn't respond to emails]. This testifies to their lack of professionalism and have them addressed them.
"But I already did that with the emails at Bayern. My conviction is that a full professional also wants to live professionally. Like Arjen Robben – he read the emails."
On the subject of Bayern, Van Gaal also revealed that he had tried to sign FCB striker Robert Lewandowski during the his time with Man Utd, a move that failed to materialise but perhaps could have seen his legacy at Old Trafford remembered differently.
"[Lewandowski's] price was not a problem for Manchester United, but Bayern did not want to let him go," he said.
As for what the Dutchman is doing with his time these days, he admits that he is still turning down offers to return to management.
"I have already rejected offers from World Cup participants, most recently also a €25 million offer from China.
"I still get offers every week, which I find incredible."