Barcelona
Valverde makes case for VAR after missed Messi goal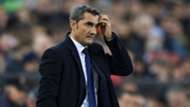 Barcelona manager Ernesto Valverde has made a case for the use of video in football after watching his side drop points thanks in large part to a Lionel Messi goal that was missed. 
A shot from Messi in the first half made its way past Valencia goalkeeper Neto and the Argentine was already celebrating when it became clear that the goal would not be given. 
Barca 13/2 to win CL with dabblebet
Televison replays showed a clear goal, but Barcelona were denied and the match ended in a 1-1 draw. 
While Valverde admitted that the calls go both ways, he made it clear that he would like to see video used to clarify these situations in the future. 
"I think we all agree that in these plays so evident, the topic of VAR is not about re-refereeing the games, but it was clear that it had crossed and that we are still with this issues puts us on the spot," he said after the match.
"The other day against Malaga there was a ball that went out, we scored and it benefited us."
The manager also believes that the goal not being allowed changed the entire course of the match. 
"We were in total control in the first half and we had a goal cancelled. In the second half, Valencia decided to pressure us and move forward more. Their goal hurt us, so we moved forward to attack more.
"The cancelled goal damaged us and it was the wrong decision by the assistant referee."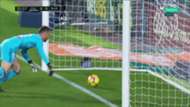 Midfielder Sergio Busquests also thinks that Barcelona, who still hold a four-point lead in La Liga after the draw but saw their advantage over rivals Real Madrid and Atletico Madrid reduced from 10 to eight points, deserved more from the match. 
"We don't feel very good," he said. "It was a clear goal, but the referee and the assistant did not see it.
"We tied, but we deserved more."
Barcelona are back in action on Wednesday with a Copa del Rey clash against Murcia.