U20 World Cup
USMNT U-20 World Cup roster predicted: Who will Tab Ramos take to Poland?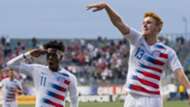 Tab Ramos has seen plenty of change during his almost eight years as United States Under-20 national team coach. When he first led the team that qualified for the 2013 Under-20 World Cup, his biggest issue was finding players who were earning first-team professional minutes. As he prepares for his fourth Under-20 World Cup, Ramos finds himself with an abundance of players who are playing regularly, which will make for some very tough decisions when it comes time to pick his Under-20 World Cup squad.
The current crop of U.S. Under-20 players is widely-regarded as the most talented to ever pass through the U.S. soccer pipeline, including a handful of players who have already made their full USMNT debuts. The big question heading into the Under-20 World Cup is how many U-20s will make their way to the Gold Cup rather than the Under-20 World Cup.
As things stand, the only standout who definitely won't be playing at the Under-20 World Cup is Tyler Adams, who starred at the 2017 Under-20 World Cup and has since become a key figure on the U.S. senior national team. He will be a key player for Gregg Berhalter's Gold Cup campaign this summer, and youth national team days are behind him (though we shouldn't rule him out of a potential role in the 2020 Olympics).
The other two age-eligible standouts who are big question marks for the Under-20 World Cup are Josh Sargent and Tim Weah. Neither is seen as being a shoe-in to be a part of Gregg Berhalter's Gold Cup plans, which would then free them up to bolster an already stacked U.S. Under-20 attack.
There is still plenty of talent for Ramos to choose from even if he winds up being without the three most recognizable players in the age group, along with several difficult roster cuts to make. Here is Goal 's look at the 21-man squad Ramos could choose when he reveals his selections on Friday:
---
Goalkeepers
---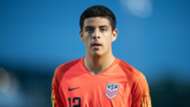 David Ochoa (Real Salt Lake), C.J. Dos Santos (Benfica), Trey Muse (Seattle Sounders)
The goalkeepers in the pool haven't generated as many headlines as the attacking talent but the reality is it is a deep group, with several seeing regular playing time. David Ochoa is emerging as a leading candidate to start. The 18-year-old is thriving for USL side Real Monarchs and is in line to be the heir apparent to Nick Rimando at Real Salt Lake. He played in the Under-20 Concacaf Championships so he shouldn't have a problem performing on the World Cup stage despite being the youngest goalkeeper in this group at 18.
C.J. Dos Santos is Ochoa's leading competition for the starting role. Dos Santos started in the recent U-20 friendlies in Spain.  Brady Scott was the starter at the Concacaf Championships, but recently suffered an injury that has put his World Cup in doubt. He was already slipping on the depth chart before the injury though, but could still edge out Trey Muse for a roster spot if he can recover in the next month.
---
Defenders
---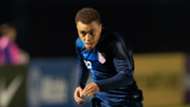 Sergino Dest (Ajax), Aboubacar Keita (Columbus Crew), Chris Richards (Bayern Munich), Mark McKenzie (Philadelphia Union), Chris Gloster (Hannover 96), Julian Araujo (LA Galaxy)  
Ramos will need to decide whether to bring six or seven defenders, and while we project six, there is definitely a chance he could go with seven.
Sergino Dest is the best fullback in the bunch, while Chris Gloster is the safe bet to be the team's left-back option. Julian Araujo is seeing first-team minutes with the LA Galaxy, solidifying his place in the group. Jaylin Lindsey 's knee injury took one option away from Ramos, while Philadelphia's Matt Real is a good candidate to be the seventh defender if Ramos goes with seven.
In central defense, Mark McKenzie had appendix surgery in April that has sidelined him for the Philadelphia Union, but he is still expected to recover in time to be part of the U.S. U-20 team. 
Aboubacar Keita has seen his stock rise in the U-20 setup in 2019, athough an injury sidelined him until recently. 
---
Midfielders
---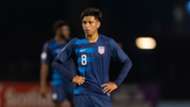 Alex Mendez (SC Freiburg), Richie Ledezma (PSV Eindhoven), Paxton Pomykal (FC Dallas), Chris Durkin (D.C. United), Frankie Amaya (FC Cincinnati), James Sands (New York City FC)
Alex Mendez is the star of this group, having dominated in the Concacaf Championships and more recently secured regular playing time with Freiburg's U-19 team. Richie Ledezma has returned from injury in time to re-establish his place in Ramos' plans. He would have been a starter in the Concacaf Championships if he had been healthy.
Paxton Pomykal is enjoying a stellar season for FC Dallas and though he played as a winger in the Concacaf Championships he is a good bet to play in central midfield at the U-20 World Cup. A minor hamstring injury has sidelined him for FC Dallas, but Pomykal is expected to be ready for the World Cup.
Chris Durkin was one of the standouts of the most recent U-20 camp, and looked sharp in recent appearances with D.C. United. His versatility makes him invaluable not only as a likely starter at defensive midfielder, but also cover in central defense as well.
No U.S. Under-20 pool player has earned more first-team MLS minutes than New York City FC's James Sands, who has been a regular starter for NYCFC, more recently as a central defender after playing in defensive midfield earlier in the season. His versatility would make him invaluable on the small U-20 roster, but a recent adductor injury could leave Sands out.
Ramos is a big fan of Frankie Amaya's game, and his chances of making the team have been boosted by recent minutes, both on loan and in his recent start for FC Cincinnati. Brenden Aaronson and Edwin Cerillo are all players currently seeing first-team MLS minutes who have played their way onto the radar in recent months, though both are still likely to miss out.
Christian Cappis had emerged in recent months as a strong option, having starred in the U-20 team's March friendlies against Japan and France. Unfortunately for him, he hasn't seen much playing time for Danish club Hobro reccently and could lose out to other players who have been playing regularly.
---
Forwards
---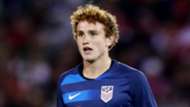 Josh Sargent (Werder Bremen), Sebastian Soto (Hannover 96), Tim Weah (Paris Saint Germain), Ayo Akinola (Toronto FC), Ulysses Llanez (Wolfsburg), Konrad De La Fuente (FC Barcelona)
Some very good options are going to be left home in this group, especially if both Josh Sargent and Tim Weah wind up available and included. The odd man out in this projection is Jonathan Amon, a speedy forward/winger who could definitely force his way into the group, and would stand to benefit if Sargent or Weah (or both) wind up being left out.
Sargent and Sebastian Soto would be the lead striker options in this group, with Justin Rennicks an option if Sargent isn't available. Ayo Akinola, Weah, Ulysses Llanez and Konrad De La Fuente give Ramos plenty of firepower on the flanks.
One player who won't be part of the team is speedy Schalke winger Nick Taitague, who has had another injury setback. Sources tell Goal Taitague recently had back surgery that will sideline him for months.
Other winger/forward options to keep in mind include Omir Fernandez , Jacobo Reyes and Andrew Carleton , though they are facing long odds in this deep group.
FC Dallas forward Jesus Ferreira would have been a very good option for this team, but it appears he hasn't been able to secure his U.S. citizenship in time to be part of the team.